Installation of Renewable Energy Systems
Apart from promoting the development of renewable energy (RE) by taking forward a number of large-scale Government RE facilities, the Government has also introduced the Feed-in Tariff (FiT) Scheme to help encourage the private sector to participate in small-scale distributed RE generation by installing RE systems at their own premises. This article provides general information on installing solar photovoltaic (PV) system at your premises, connecting it to the grid and receiving FiT payment.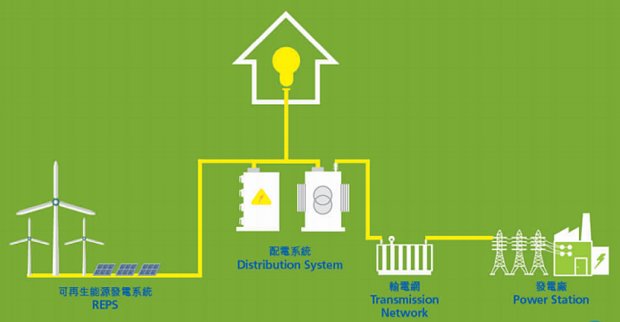 What are the major hardware components of a solar PV system?
Solar PV panels and inverter are the two major components of a solar PV system. In general, the solar PV panels that are commonly available in the market contains one of the three major types of solar cells, i.e. monocrystalline cells, polycrystalline cells or thin film cells. The energy conversion efficiency and price of the three types of solar PV panels are different. You may purchase the appropriate type according to the design of your system and budget.
Inverter is another key component of a solar PV system. It converts the output direct current of solar PV panel array into alternating current. The isolation transformer installed inside or outside the inverter also helps ensure the safe operation of the system. When purchasing inverters, you should select ones that are designed and manufactured according to relevant international standards and/or specifications, and so certified by recognised organisations or relevant testing and certification authorities.
Where to install my solar PV system?
The power output of a solar PV system will be affected by a series of factors including the location, orientation, solar irradiation, solar PV panel efficiency, the design and installation method of the system. Solar PV systems should generally be installed on the roof and/ or open areas which should be a structurally sound area and these areas should be unshaded from adjacent structures, buildings and trees. To obtain the optimum power output, the panels should be installed at a tilting angle facing south.
Can I install my own solar PV system by myself?
For solar PV systems installed on the roof of New Territories Exempted Houses (commonly known as village houses), the systems should be properly installed and should not adversely affect the structural safety of the building. Subject to fulfilment of specified conditions, the height of the systems may reach a maximum of 2.5m and such systems should be certified by an Authorised Person registered under the Buildings Ordinance for submission of a safety certificate to Lands Department for record.
For other private buildings, if such installation is minor works, the building owner or tenant concerned should appoint Prescribed Building Professionals / Prescribed Registered Contractors to carry out the erection of the supporting structures. If the building works involved are not exempted works or minor works items, the building owner or tenant should appoint an Authorised Person and submit building plans to the Buildings Department (BD) in accordance with the Buildings Ordinance. For these works, building works can only be carried out after obtaining prior approval for and consent to the commencement of works from the BD.
As solar PV systems consist of electrical equipment, you are also required to employ a Registered Electrical Contractor / Registered Electrical Worker to carry out the related electrical installation works.
Since the legal requirements applicable to installing solar PV systems at different types of buildings or premises would be different, approval(s) from different departments including the BD, Lands Department, Electrical and Mechanical Services Department (EMSD), Fire Services Department, etc. may be required.
Professional/ technical knowledge and experience are essential to ensuring the solar PV system would be properly installed. It is advisable to consult and appoint registered professionals and contractors to help plan and install your system.
For further information, please refer to the
Guidance Notes for Solar PV System Installation (January 2019) published by EMSD
and its Summary Table of Updates
You will also require to register your generating facilities with EMSD under the Electricity Ordinance. However, if your solar PV system forms part of an electrical installation covered under the Periodic Test Certificate (WR2) in premises, its registration as generating facility is not required. For application details, please visit the following link for :
Registration for Generating Facilities
For more information about connecting your solar PV system to the grid and the application procedures under the FiT Scheme, please visit:
EMSD's HK RE NET
Last review date: April 2022