Helping to Clean the Air
Air pollution may look daunting, but you can contribute to cleaner air in small ways. Here you can learn about the air pollution in Hong Kong, and what you can do about it when driving, at home and at work.
Air Pollution in Hong Kong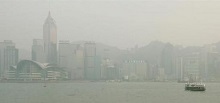 Air pollution is a big issue in Hong Kong, affecting our daily lives in numerous ways. The problems we are facing are mainly roadside vehicle emissions and regional smog. The Government is working to tackle these problems by promoting the wider use of new energy vehicles, controlling car and local power plants emissions, and collaborating with the Guangdong government to improve regional air quality. But there is still much that you can do to help make our city healthier for everyone.
More on air pollution in Hong Kong
What You Can Do When Driving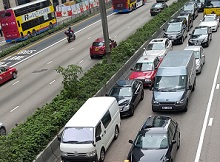 The street level pollution mainly comes from emissions of vehicles in the streets. There are a few simple measures that you can take to help solve this problem.
More on greener transportation
What You Can Do at Home
There is much we can do at home both to protect the environment and to make our lives healthier.
Energy Consumption
An easy way to help clean the air is to reduce energy consumption at home. By switching off fans, air-conditioners and lights when you don't need them and keeping the air-conditioned temperature between 24°C and 26°C or above in summer, you will save energy and money, and reduce air pollution from power stations. You can also choose energy efficient appliances and look for the Energy Label when purchasing these products.
More on the Voluntary Energy Efficiency Labelling Scheme
More on the Mandatory Energy Efficiency Labelling Scheme
Improve Indoor Air Quality (IAQ)
We spend more than 70% of our time at homes, offices and other indoor environment. If the indoor environment gets polluted, it may give you headaches, itchy eyes, fatigue, respiratory difficulties and skin irritation. Below are some easy tips to follow to improve IAQ.
Maintain adequate air ventilation by opening windows.
Clean the filters of air conditioners at regular intervals.
Do not smoke at home.
Dispose of perishable food properly to avoid odours.
Remove and clean visible moulds once they are found.
Report any IAQ problems outside your control to the building management.
More on improving IAQ in your home
More on IAQ
What You Can Do at Work
Another place in which you can help improve air quality is your office. Everyone from business owners to cleaners can make a difference. Following are some easy tips for improving IAQ in offices.
Provide adequate ventilation and do not block air vents or ducts.
Maintain ventilation systems in a good working condition and clean the filters at regular intervals.
Relocate photocopiers, which produce ozone, away from the general work area.
Try to use water-based paints rather than their organic solvent-based equivalents. This will reduce emissions of volatile organic compounds.
Remove and clean visible moulds once they are found.
Join the voluntary IAQ Certification Scheme for Offices and Public Places.
More on IAQ Certification Scheme for Offices and Public Places
More on improving IAQ in offices
More on IAQ
Last revision date: September 2023