Air Quality in Hong Kong
Air quality is a major concern in Hong Kong, and the Government is undertaking a number of initiatives to improve it. The following provides an overview of the problems and the solutions that are being put forward.
Air Pollution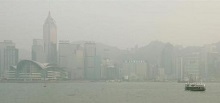 Hong Kong's air pollution is mainly contributed by motor vehicles, marine vessels and power plants. The two greatest challenges are local street-level pollution and regional smog. Diesel vehicles, particularly trucks, buses and light buses, are the main source of street-level pollution. Smog is caused by a combination of pollutants mainly from motor vehicles, industry and power plants in Hong Kong and the Pearl River Delta. The Government released the first Clean Air Plan for Hong Kong in March 2013 which sets out in detail the various measures to tackle air pollution from power plants, land and sea transport, and non-road mobile machinery and to strengthen collaboration with Guangdong to deal with regional pollution. A progress report was published in June 2017 which gave an account on its implementation and achievements. The Government announced the Clean Air Plan for Hong Kong 2035 in June 2021 setting out the long-term goals and strategies to further enhance the air quality with a view to leading Hong Kong to become a liveable city with air quality on par with major international cities by 2035.
In March 2021, the Government announced the first Hong Kong Roadmap on the Popularisation of Electric Vehicles, setting out the long-term policy objectives and plans to promote the adoption of electric vehicles and their associated supporting facilities in Hong Kong.
More on "Hong Kong Roadmap on the Popularisation of Electric Vehicles"
More on "A Clean Air Plan for Hong Kong"
More on "Clean Air Plan for Hong Kong (2013 - 2017 Progress Report)"
More on "Clean Air Plan for Hong Kong 2035"
The implementation of a comprehensive vehicle emission control programme has brought along substantive air quality improvement. As of 2020, the roadside levels of nitrogen dioxide, respirable suspended particulates, fine suspended particulates and sulphur dioxide have reduced by 40%, 48%, 47% and 50% respectively compared with 2010.
With regard to improving regional air quality, the Government has long been collaborating with the Guangdong Provincial Government to implement a wide range of measures and set jointly a number of 5-year emission reduction targets. Both sides have commenced a study on "Post-2020 regional air pollutant emission reduction targets and concentration levels" with a view to formulating emission reduction strategies and targets for 2025 and 2030.
Hong Kong's Air Quality Objectives
The Government has set out Hong Kong's Air Quality Objectives (AQOs) in the Air Pollution Control Ordinance (Cap. 311), and is required to review the AQOs at least once every five years to continuously improve air quality and safeguard public health. The current AQOs took effect from 1 January 2022. The Government has embarked on a new round of review to assess the scope for further tightening the AQOs, with an aim of completing the review by 2023.
More on Review of Air Quality Objectives
Air Quality Health Index

The Environmental Protection Department releases hourly Air Quality Health Index (AQHI) to inform the public of the short-term health risk of air pollution in Hong Kong and helps the public take precautionary measures to protect their health. The AQHIs are reported on a scale of 1 to 10 and 10+ and are grouped into five AQHI health risk categories with health advice provided. This is particularly useful for people who are sensitive to air pollution like children, the elderly and those with heart or respiratory illnesses who need to take precautions when the health risk levels are high. The health risk categories forecast also advises the public before the onset of high health risk categories due to pollution episodes.
More on the AQHI
Pearl River Delta Air Quality
Cooperation between the governments of Hong Kong and Guangdong is working to ensure that regional pollution levels are brought under control. At the forefront of such efforts is the Regional Air Quality Management Plan, which is coordinating individual initiatives in different cities to ensure that everyone in the Delta benefits. The Guangdong-Hong Kong-Macao Pearl River Delta Regional Air Monitoring Network is monitoring the results, which can provide you with information about the level of air pollution in the region.
More on Pearl River Delta air quality
Indoor Air Quality (IAQ)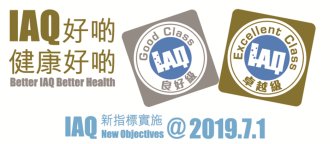 The Government's concern about air quality in Hong Kong also extends indoors. It is important to achieve and maintain a better IAQ as we spend the majority of our time indoors, either at homes, offices or on public transportation facilities. Good IAQ safeguards our health and would also help enhance Hong Kong's competitiveness over other cities.
More on IAQ
What You Can Do
There are a number of practical and easy ways that you can help to improve air quality both indoors and outdoors. For example, you can choose public instead of private transport and switch off domestic appliances and electric lights when they are not in use. Industry, developers and others can also play their parts by observing air pollution control laws and exercising good practices in their operations. What we do now will determine how well we live tomorrow.
More information on help clean the air
Last revision date: July 2022