Food Wise
Each one of us can play an active role to reduce food waste at source. We all can do to become much more aware of the food we buy and eat, and to treasure our good fortune to have sufficient food to nourish us. By avoiding food wastage, we will play our part for the environment to ease further pressure on the world's food system when so many individuals and families still face hunger all over the world, and even in affluent Hong Kong. Remember that when you leave food in your bowl; when you prepared or ordered too much food; when food is spoiled because you forgot to eat it – these all generally gets thrown away and end up in our landfills. So, take more care not to waste. Don't be a Big Waster.
Food Wise Hong Kong Campaign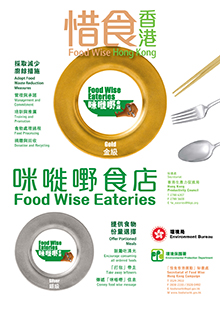 On 3 December 2012, we set up the Food Wise Hong Kong Steering Committee to drive leadership in food waste avoidance and reduction through working with leaders in this field in order to formulate and oversee the implementation of the Food Wise Hong Kong Campaign. The campaign was formally launched on 18 May 2013. The campaign has a variety of activities, ranging from articulating and disseminating best practices in the commercial and industrial sector to working with government departments, schools and non-governmental organizations (NGOs) in order to expand participation. The campaign is also facilitating food donation for dual purposes of caring for the disadvantaged and waste reduction. Food Wise Charter has been established. Various trades, non-governmental organizations and government departments have signed the Charter to show their support and to commit to reducing food waste. Furthermore, Food Wise Talks have been held to introduce food waste issues and share practical experience in food waste reduction and recycling with the public. Moreover, the Food Wise Eateries Scheme was launched in November 2015. This scheme is to encourage food eatery outlets in the hotel and food & beverage sectors to reduce food waste at source together with customer through offering portioned meals and adopting food waste reduction measures. Applications are accepted all year round. Participants of the Scheme will be awarded with a Food Wise Eateries accreditation status if they comply with the assessment criteria and will be granted with the Food Wise Eatery Logo and Stickers for displaying in the premises and their promotion for public identification.
More on Food Wise Hong Kong Campaign
Food Waste Reduction Practical Tips "123"
Think before you buy to avoid wastage
Make good use of food trimmings for a secondary dish
Avoid leftovers in every meal
More on Food Waste Reduction Tips
Food Donation
Surplus edible food could be redistributed for human consumption. Throwing food away deprives someone else from being nourished by it and is a sheer waste of resources. Momentum of food donation is building up in Hong Kong. NGOs operate food banks, redistribute dry foodstuffs, as well as take cooked food from eateries to community centres. There are also NGOs that use surplus produce from fresh food markets either for distribution or for preparing hot meals in community kitchens for the needy.
More on Food Donation
Last review date: April 2022