Traffic Noise
Traffic noise is a major problem in all large cities, but the Government has adopted various measures to tackle the problem in Hong Kong. This page provides information on what is being done about noise from new and existing roads, how vehicle noise is being reduced and other environmentally friendly solutions.
Traffic Noise in Hong Kong
Hong Kong's thriving economy, rapid urban development and increasing population are making traffic noise more noticeable, with about 900,000 people affected. The Environmental Protection Department is tackling this problem by:
Preventing traffic noise on new roads through careful planning.
Noise abatement on existing roads.
Control of noise emissions from individual vehicles.
Other environmentally friendly measures.
Planning Solutions
Because noise is a difficult problem to solve once it occurs, the Environmental Protection Department works hard to plan ahead. This involves the provision of professional advice to various Government departments on the design of new roads and nearby buildings. Advice on development proposals usually includes outlining measures to mitigate road traffic noise to an acceptable level.
With new road construction, many people have benefited in recent years from departmental advice on road alignment, the erection of noise barriers and the provision of low-noise road surfaces. These surfaces are now standard on high-speed roads throughout Hong Kong.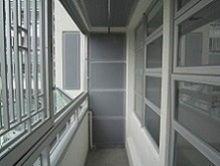 More on planning measures for the control of traffic noise
Innovative Noise Mitigation Designs and Measures
Noise Abatement Measures
The elimination of noise from existing roads is more difficult. To minimise the problem, a programme of retrofitting noise barriers and resurfacing roads with low-noise materials has been implemented. The retrofitting programme is being carried out in phases and will eventually benefit around 30,000 dwellings nearby. For road resurfacing to cut noise, EPD and Highways Department planned to complete the resurfacing works and trials of total about 50 local road sections in 2022, in order to issue the final report before end-2022. And in 1999 the Government completed a $658 million programme to insulate more than 10,000 classrooms for 500,000 students. The aim is to provide you and your children with a more liveable environment.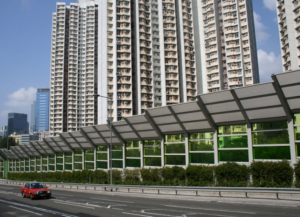 More on the barriers and road resurfacing
Vehicle Noise Emission Control
As part of the motor vehicle registration process that covers aspects of roadworthiness and emissions of any kind, the Noise Control (Motor Vehicles) Regulation stipulates that new vehicles for use in Hong Kong must meet the European Union and Japanese noise control standards. To find out whether your vehicle can be approved under the regulation, you can access the registration lists on the Environmental Protection Department website.
List of approved vehicles
Environmentally Friendly Solutions
Because not all existing roads can be retrofitted with noise barriers or resurfaced with low-noise materials, the Government explores on a case-by-case basis the feasibility of restricting the passage of vehicles that are likely to emit high levels of noise in built-up residential areas. The restrictions are based on vehicle length or weight, and currently apply to:
Lai King Hill Road
Chuk Yau Road
The Tsing Fung Street Flyover
Texaco Road Flyover
In other areas, roads are periodically or temporarily blocked to traffic. Such restrictions are currently in place in parts of:
Causeway Bay
Central
Jordan
Sham Shui Po
Sheung Shui
Stanley
Tsim Sha Tsui
Mong Kok
Wan Chai
Yuen Long
Not only will you have more space in which to walk when moving through these areas, you will also benefit from reduced levels of noise and other emissions.
More on traffic restrictions
Last revision date: March 2022