Corporate Environmental Management
Along with the global trend of green business and green living, more and more companies have been attaching great importance to protecting the environment. An effective means to achieve and demonstrate sound environment performance is to adopt an Environmental Management System (EMS) and produce environmental performance reports. You can find useful information in this article.
Benefits of Corporate Environmental Management
The benefits of corporate environmental management are many. In the view of management, it can fulfill supply-chain requirements, ensure continual environmental improvement, help to reduce legislative non-compliance, promote staff environmental awareness and increase financial savings resulting from resource saving and cost reduction. From the public relations perspective, it can improve the company image, and enhance favourable customer relationships.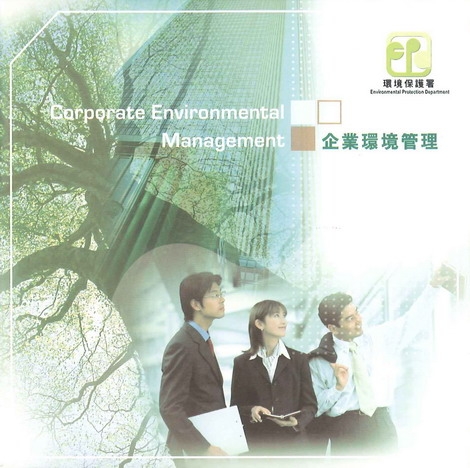 Environmental Management System
An Environmental Management System (EMS) can help a corporation to improve its environmental performance and thus stay competitive in the environmentally conscious world business market.
In general, a corporation will go through 3 steps in setting up its EMS.
Conduct an initial environmental audit to evaluate the current environmental performance.
Set its own environmental policy as well as objectives and targets.
Map out an environmental programme to translate the targets into concrete action plans.
EMS Certification
The ISO 14000 EMS certification is internationally recognised. To assist the Small and Medium Enterprises (SMEs) to develop their own EMS, the Environmental Protection Department (EPD) has launched support packages on environmental management information and ISO 14001 EMS specifically for SMEs of the construction and electrical/electronic sectors.
A successful EMS also involves periodic audit and review to ensure its effectiveness and achieve continual environmental improvement. EPD also launched a simple guide helping SMEs to conduct environmental audits.
More on EMS and the support packages
More on environmental audit
Environmental Performance Reporting
Businesses are also encouraged to produce their own environmental performance reports to inform shareholders, investors, potential business partners, customers as well as the general public how they have contributed to achieving a sustainable environment.
Evidence has shown that environmental performance reporting can be a useful marketing tool in winning business opportunities as some companies are more willing to work with those who have a proven record in environmental management. It can also boost the corporate image.
To facilitate the business to produce good quality environmental performance report, EPD has set up a cyber helpdesk which includes step-by-step guide, tips for successful reports, international best practices, and other useful resource materials.
More on environmental performance reporting
Compliance Assistance Centre
You are welcome to contact the Compliance Assistance Centre (CAC) of EPD for obtaining more information about the corporate environmental management. The CAC offers a wide range of services, including advice on environmental regulatory requirements, practical solutions to common pollution problems, updated compliance guides, green practices and environmental management tools.
Compliance Assistance Centre
Last review date: December 2019