e-Government Services
With a population attuned to the latest technologies, the Government sees great potential in applying mobile technology to the delivery of government information and services. Here is the government vision and a few examples of the initiatives undertaken by different government entities.
The e-Government Vision
The Government is committed to ensuring that everyone in Hong Kong benefits from the latest developments in mobile technology.
To develop Hong Kong into a Wi-Fi Connected City, the "Wi-Fi.HK" common Wi-Fi brand was established by the Government, public and private organisations. Under "Wi-Fi.HK", the Government has been providing free wireless Internet access services to citizens and tourists by installing Wi-Fi facilities at designated government venues throughout all 18 districts in Hong Kong. These venues include public libraries, museums, public enquiry service centres, sports centres, cultural and recreational centres, cooked food markets and cooked food centres, job centres, community halls, major parks, government buildings and offices, etc.
In its own service delivery, the Government now provides a range of information for users of mobile devices, covering traffic, weather, air quality health index and news, etc. Some examples of popular government information available to people on the move are outlined below.
GovHK Mobile Applications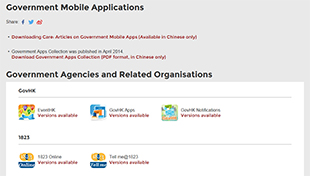 Several mobile applications (apps) have been launched to enhance e-Government services and communication with the public through the mobile platform.
GovHK Notifications provides you with a convenient channel to receive important government information and alerts (e.g. special traffic information, outbound travel alerts, weather warnings) with your mobile devices. A webpage version is also available for viewing messages sent to the app in the last 7 days.
Download GovHK Notifications
Webpage Version of GovHK Notifications
GovHK Apps allows you to search for and download government mobile apps conveniently and securely.
Download GovHK Apps
EventHK provides a one-stop platform for you to easily find public events organised by government departments or held at government venues.
Download EventHK
Real-Time Weather Information for Mobile Devices
For people interested in keeping track of local and regional weather, the Hong Kong Observatory offers a wealth of information on its mobile website, including:
Local weather warnings, including typhoon signals;
Comprehensive reports on regional weather in Hong Kong; and
Local, mainland China and major world city weather forecasts.
Mobile Website for Weather Information
Environment and Air Quality Health Risk Information for Mobile Devices
Besides news releases and updates on initiatives, the mobile website of the Environmental Protection Department provides the latest water quality grading of bathing beaches.
Mobile Website for Environmental Information
Government News and Press Releases for Mobile Devices
Through news.gov.hk website, the Government provides news for people on the move in a user-friendly format.
Website of News and Press Releases
Other Government Mobile Apps
Here on GovHK, you can find a full list of Government mobile apps.
Government Mobile Apps
Last revision date: September 2022