Marine Water Quality
Hong Kong depends on the sea for navigation, recreation, seafood production and the supply of flushing and cooling water, so keeping the marine environment clean is important to everyone. Here you can learn about why the Government is monitoring marine water quality, how the monitoring process works and where you can find out the water quality of an area at any given time.
The Situation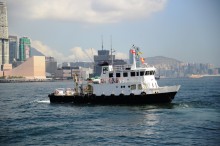 With the state of the natural habitat an important concern around the world, looking after our seas and marine life has become a significant public duty. The Environmental Protection Department takes a holistic approach to protecting Hong Kong's marine environment, from looking after the health of the ocean right down to ensuring marine life from dolphins to microscopic algae thrive in their natural surroundings.
Water Quality Monitoring – an Overview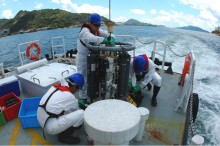 The Environmental Protection Department regularly monitors the water quality in 1,700 square kilometres of marine waters. Its ongoing programme covers 94 water and 60 sediment sampling stations in the open sea, semi-enclosed bays and typhoon shelters. Through its activity the Department assesses the health of our marine waters, ensures that they are in compliance with its statutory Water Quality Objectives, tracks long-term pattern changes in water quality and uses the collected data to plan pollution control strategies. Also of concern is predicting the challenges ahead. The ultimate benefit will be to your health, and to the health of everyone around you.
Overview of marine water quality and monitoring
The Monitoring Process
The monitoring process is carried out on board a scientific vessel – the Dr Catherine Lam – which is equipped with state-of-the-art technology. At various locations, scientists measure a range of parameters, such as temperature, pH, salinity, turbidity and dissolved oxygen. Water and sediment samples are also collected and sent to laboratories for analysis of over 60 parameters such as nutrients, metals, organics and coliform bacteria. In the last twenty years the scope of analysis has tripled, ensuring that our awareness of water quality keeps pace with the development of society. Water quality monitoring is generally conducted once a month, and sediment quality monitoring is conducted twice a year.
More on the monitoring process
Marine Water Quality Objectives
Hong Kong is divided into ten Water Control Zones, each with its own set of Water Quality Objectives. Through the regular sampling conducted on the Dr Catherine Lam, the Environmental Protection Department determines whether a particular zone is in compliance with its key Water Quality Objectives. Of particular concern are the levels of dissolved oxygen and E. coli bacteria, because they are related to human health risk. Very low dissolved oxygen can harm seafood stocks, and high E. coli level indicates sewage pollution of the water. More information on recent marine water quality, including levels of dissolved oxygen and E. coli at selected stations in ten Water Control Zones, can be obtained from the Environmental Protection Department's website.
Recent marine water quality information
Annual Marine Water Quality Reports
Each year, the Environmental Protection Department publishes a report covering the marine water quality data it has collected, with conclusions drawn so the public can learn about how effective the various management measures have been. Also available is a 20-year review, which provides an in-depth account of the marine monitoring work, long-term water quality changes and pollution control measures since 1986. These reports are available in public libraries and Environmental Resource Centres throughout Hong Kong, or can be viewed and downloaded from the Environmental Protection Department's website.
Marine Water Quality Reports
Last review date: December 2019