Construction Waste
The high levels of construction activity in Hong Kong generate high levels of construction waste. Here you can learn the Government's construction waste management strategy and ways to reduce construction waste production.
What is Construction Waste?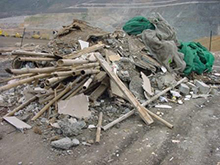 Construction waste is anything generated as a result of construction works and then abandoned, regardless of whether it has been processed or stockpiled. It comprises surplus materials from site clearance, excavation, construction, refurbishment, renovation, demolition and road works. There are two types of construction waste:
Inert construction waste - also known as public fill - mainly includes construction debris, rubble, earth, bitumen and concrete.
Non-inert construction waste - usually comprises bamboo, timber, vegetation, packaging waste and other organic materials.
More on construction waste
Construction Waste Treatment
The major approach to managing construction waste in Hong Kong is the use of public filling areas for reusable inert construction waste and landfills for non-inert construction waste. The fill banks temporarily stockpile the inert construction waste for later reuse in reclamation and site formation works.
More on public fill facilities
Locations of waste disposal sites
Management Strategy for Construction Waste
When determining management strategies for construction waste, the Government's objectives are to:
Reduce waste generation.
Maximise reusing and recycling.
Reduce the intake of mixed construction waste at landfills.
This involves the Government encouraging the industry to:
Sort mixed construction waste and not just dispose of it in a single place.
Reuse and recycle as far as possible.
Design better and construct more efficiently to minimise waste.
More on the Government's management strategy
Charging for Construction Waste Disposal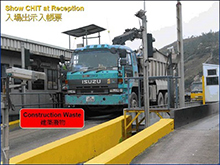 Under the Construction Waste Disposal Charging Scheme, construction waste producers are required to open a billing account with the Environmental Protection Department before using designated waste disposal facilities and pay the appropriate charges for disposal of their construction waste. Construction waste producers under the scheme are typically:
Construction contractors
Renovation contractors
Home owners
Application forms and information on eligibility and fees are available on the Environmental Protection Department's website.
More on the Construction Waste Disposal Charging Scheme
What You Can Do
Construction companies can reduce waste through:
More careful purchasing and design, including the use of more advanced and less wasteful technologies.
Managing raw materials more effectively.
Providing education and training to their workforces.
When renovating your own home, it is important to:
Work with your renovation contractor to minimise generation of construction waste.
Record how much waste you are producing, so you can appreciate the problem and the cost of waste disposal.
Separate inert and non-inert materials for recycling/disposal as appropriate.
Give your renovation contractor clear instructions on the separation and removal of construction waste.
Arrange with recyclers for the collection of recyclable waste.
You should also remember to ensure that waste is disposed of legally and properly, so we can all benefit from a clean environment.
More on what you can do at home
List of recyclers
Waste reduction guidelines for construction companies
Last review date: November 2019