Environmental Exhibition & Resource Centres
Learning about the environment can help you to appreciate how your actions can make a difference in this interconnected world. Here you can find out more about the environmental resource centres where you can locate more information about protecting the environment, and how you can help.
The Government's Commitment
The Government is committed to educating the public about protecting the environment. To achieve this, the Environmental Resource Centres, the Visitor Centres and the Green Education and Resource Centre have been set up to provide environmental information with related activities and programmes.
Environmental Resource Centres
The Environmental Resource Centres are located in Wan Chai and Mid-Levels. The two centres offer a variety of educational displays and activities, each with its own special attractions. There is also a mobile environmental education programme that provides a variety of diversified activities at various venues in the community to educate the public about protecting the environment.
Wan Chai Environmental Resource Centre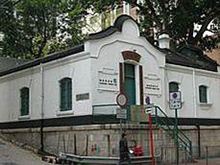 The Wan Chai Centre occupies the building that housed the Wan Chai Post Office from 1915 to 1992 and was declared a historical building in 1990. As the first Environmental Resource Centre, it includes an interactive learning room, library databank, information gallery and environmental garden. A short walk from Wan Chai MTR Station Exit A3, the Centre is conveniently accessible to the public at large.
Address:
221 Queen's Road East, Wan Chai, Hong Kong

Due to renovation works, the centre is temporarily closed until further notice.
Lung Fu Shan Environmental Education Centre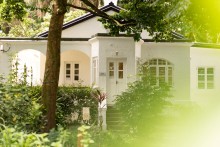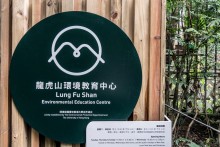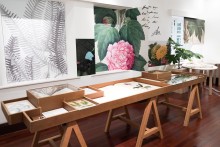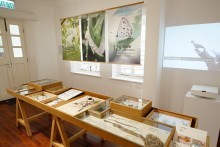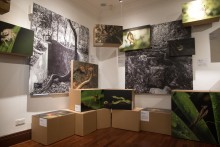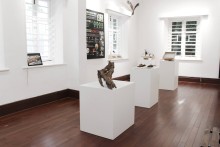 Operated jointly by the Environmental Protection Department and the University of Hong Kong, the Lung Fu Shan Environmental Education Centre (LFSEEC) is located on the fringe of the University of Hong Kong campus and close to the Lung Fu Shan Country Park. The LFSEEC comprises three graded historical buildings, an eco-pond as well as a courtyard with abundant vegetation that attracts a diversity of bird and butterfly species. The Centre also includes exhibition area, information corner, activity room, library etc. and conducts numerous environmental education activities such as guided tours and workshops for the public.
Address:
No.50 Kotewall Road, Mid-Levels, Hong Kong.

Opening Hours:
Tuesday, Thursday to Sunday:10:30 a.m. to 5:30 p.m.
Wednesday (morning):10:30 a.m. to 2:30 p.m.
Closed on Monday, Wednesday (afternoon), New Year, Lunar New Year & Christmas public holidays
Telephone: 2975 9031
Fax: 2975 9030
Email: lfseec@hku.hk
More on the Lung Fu Shan Environmental Education Centre
Mobile Environmental Education Programme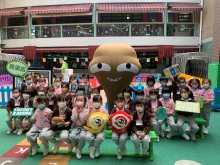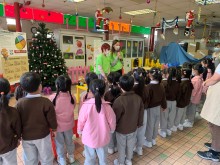 The Mobile Environmental Education Programme (the "Programme")(previously named as Mobile Environmental Resource Centre) provides a variety of diversified educational activities (such as game booths, talks, STEM experiments, sharing sessions and workshops, etc.) at different venues such as schools, housing estates, shopping malls, community centres, public spaces and other places, with a view to strengthening environmental education and enhancing public understanding of "Carbon Neutrality", and promoting a green and low-carbon lifestyle. All interested parties are welcome to submit requests for this Programme.
Visitor Centres within Waste Management Facilities
EcoPark Visitor Centre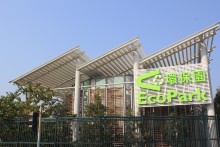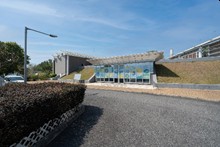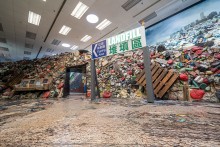 The EcoPark Visitor Centre is the first large-scale education resource centre in Hong Kong with the theme of municipal waste. The purpose of the Visitor Centre is to provide information about waste management and waste reduction that aims to arouse community's awareness on relevant environmental issues, and encourage the participation in waste reduction and recycling. The Visitor Centre is open to public and provides docent service. Advanced booking is required.
Address:
133 Lung Mun Road, Tuen Mun Area 38, New Territories

Opening Hours:
Mondays to Sundays (Closed on every Tuesday afternoons and public holidays*).
* Visitor Centre is closed on New Year's Day, the first three days of Lunar New Year, Good Friday, Christmas Day and the first weekday after Christmas.
Telephone: 2496 7633
More on the EcoPark Visitor Centre
O · PARK1 Visitor Centre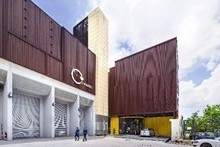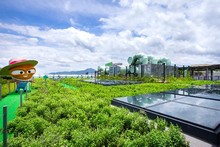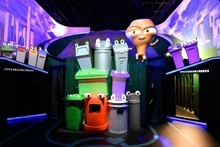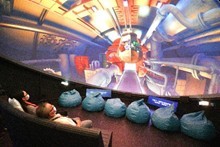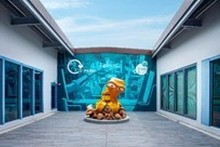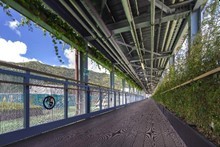 The O · PARK1 Visitor Centre uses innovative computer animations to give visitors a general introduction of the centre's operation, design and craftsmanship. This is the first time that the EPD has integrated the use of 360-degree projection and 3D mapping technology in an educational facility. In the O · CLUB dome theatre of the Visitor Centre, innovative computer animations are used to illustrate the advanced food waste treatment processes and the associated benefits in greenhouse gas reduction towards combating climate change. This also helps promote the "food wise and waste less" culture.
Address:
Organic Resources Recovery Centre Phase 1,
5 Sham Fung Road, Siu Ho Wan, North Lantau.
Opening Hours:
9:30 am to 6:00 pm (Monday, Wednesday to Sunday and public holidays) and closed on Tuesday
Telephone:
2143 7510 (For bookings)
3741 1353 (For general enquires)
Email:
booking@opark.hk (For bookings)
opark1@epd.gov.hk (For general enquires)
More on the O · PARK1 Visitor Centre
T · PARK Visitor Centre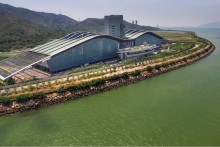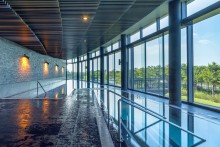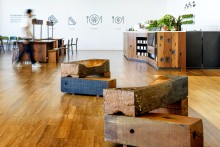 T · PARK Visitor Centre features various educational, recreational and ecological facilities, to showcase the benefits of converting waste to energy and to enhance public understanding of waste management, recycling and upcycling. Among these facilities, T · CAFE, which provides light meals for visitors of T · PARK, is designed with a theme of "Food Wise" and "Waste-to-Resources". The majority of the furniture at the cafe is made from waste materials including upcycled products from fenders from the former Wan Chai Ferry Pier. Members of the public shall make reservation for guided tour and spa pool.
Address:
No. 25 Nim Wan Road, Tsang Tsui, Tuen Mun
Opening Hours:
Mon, Wed to Sun
From 10:00 am to 7:00 pm
(By Reservation at Online Booking System Only)
Telephone: 2910 9700
Email: info@tpark.hk
In view of the latest situation of COVID-19, T · SPA is temporarily closed until further notice.
More on T · PARK Visitor Centre and reservation for visiting
WEEE·PARK Visitor Centre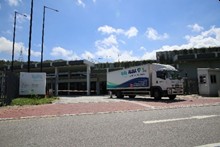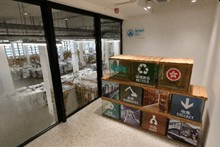 There is an exhibition corridor at WEEE·PARK Visitor Centre, and guided tours are arranged for members of the public to get a better understanding of the recycling and treatment processes of WEEE, as well as a deeper appreciation of the importance of turning waste into resources. It is open to the public for visit from Monday through Saturday. Admission is free but advanced booking is required. Reservation for guided tour can be arranged for groups and individuals by reservation which can be made through email or telephone. Visitors should arrange their own transport, or take public transport to WEEE·PARK.
Address:
Lots P2 to P4, EcoPark, 133 Lung Mun Road, Tuen Mun

Opening Hours:
Monday to Saturday (except Public Holidays):9:30 a.m. to 5:00 p.m.
Telephone: 2290 9500
Email: visit@weee.com.hk
Green Education and Resource Centre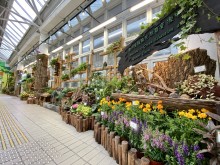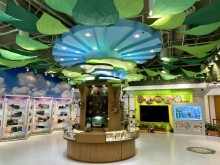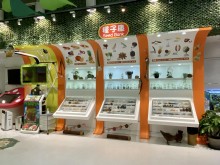 The Green Education and Resource Centre in Kowloon Park was set up to promote greening and enhance public awareness in greening and environmental protection. The Centre includes an exhibition gallery, lecture rooms and an outdoor activity area. Guided visits and greening workshops are also provided for schools and organisations by appointment.
Address:
Floor 1 Kowloon Park Management Office
22 Austin Road, Tsim Sha Tsui, Kowloon

Opening Hours:
Tuesday to Sunday, 9:30 am to 5:00 pm
Close on Mondays and the first two days of the Chinese New Year
Telephone: 2723 6042 or 2723 6767
More on the Green Education and Resource Centre
Last review date: January 2023