Means of Communications in Country Parks
Before leaving home you should learn about the points to note and the means of communicating in country parks. With a few easy precautions you can stay in touch and enjoy the natural beauty of the countryside without any worries.
Preparations before Your Hike
To make the most of your visit to a country park, you should plan your route in advance and check the mobile network coverage in the area in which you intend to hike. A range of suggestions and information is available to help you better prepare so you can relax and appreciate everything that nature has to offer.
Communication tips for your hike
Mobile Network Coverage in Country Parks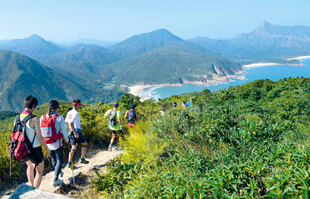 Because many of Hong Kong's country parks feature rugged terrain, mobile network coverage can be patchy. While there has been significant improvement in recent years, some areas in certain parks are still without coverage. You could refer to the digital maps provided by the Office of the Communications Authority and certain local mobile network providers for details of service coverage and reception strength in remote areas in Hong Kong.
More on mobile phone coverage in country parks
Emergency Numbers
It is also important to know how to make an emergency call in a country park, in case you encounter difficulties. You can:
Dial 112 or 999: dialling 112 will connect you to the 999 emergency call centre from any local mobile phone network that has coverage in your location
Use a roaming service: if you have subscribed to roaming service that is accessible to a mainland network, dial 00852 and then the phone number of a family member, friend or Hong Kong police station. When using a roaming service, please note that you will not be able to contact the 999 emergency call centre by dialling 00852 112 and 00852 999.
Alternatively you could try to reset your phone manually back to your local network, or move to higher ground to improve the signal strength.
Contacting the Local Police Station
To prepare for any emergency that could occur when you visit the countryside, it is helpful to have the telephone number of the nearest police station stored in your mobile phone. This applies to situations in which you cannot make emergency calls by dialling 112 or 999, and have to use a roaming service by dialling 00852 and then the police station phone number.
The telephone numbers for the police stations closest to the most popular country parks are:
Sai Kung Police Station: 3661 1630
Lantau North Police Station: 3661 1694
Lantau South Police Station: 3661 1696
Sha Tau Kok Police Station: 3661 1664
Tai Po Police Station: 3661 1674
A full list of police stations and their phone numbers is also available from the link below.
Police station phone numbers
Information to Give when Making an Emergency Call
You should give as much information as possible about your location when making an emergency call. If you do not have a Global Positioning System device you can:
Identify the number of the nearest distance post on hiking trails
Describe a prominent nearby landmark and estimate how close it is to your position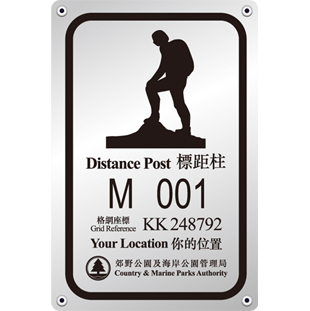 A distance post on hiking trail
With this sort of information, the authorities will be able to locate you more quickly than would otherwise be possible.
Last revision date: February 2017