Municipal Solid Waste
The management of solid waste is a complex and evolving process in Hong Kong. Here you can learn about municipal solid waste, where we dispose of it, how landfills are being reused, and other ways in which waste is being managed.
What is Municipal Solid Waste?
Municipal solid waste in Hong Kong includes the following sources:
Domestic solid waste, which comes from households and public areas, including waste collected from residential buildings, litter bins, streets, marine areas and country parks.
Commercial & industrial solid waste, which comes from shops, restaurants, hotels, offices, markets in private housing estates as well as all industrial activities, but does not include construction and demolition waste, chemical waste or other special waste.
The amount of municipal solid waste generated each year in Hong Kong is enormous, given that the city houses over 7 million people and is a regional centre of commerce. In 2019, 5.67 million tonnes were generated, of which 29% was recycled and the rest went to landfills.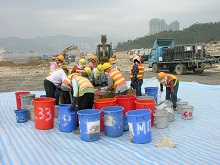 More on where our waste comes from
Disposal at Landfills
More than half of all municipal solid waste in Hong Kong is disposed of in the following landfills:
West New Territories Landfill at Tuen Mun
North East New Territories Landfill at Ta Kwu Ling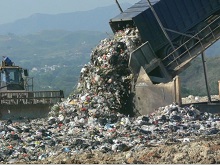 However, these sites will be completely filled by the mid 2010s if the level of waste continues to grow at the current levels. To help ease this problem, the Environmental Protection Department has placed a high priority on promoting waste reduction and recycling. But much of the waste that cannot be recycled still requires disposal, and the Government is planning waste management facilities that will reduce the size of bulk waste and recover some resources that are currently ignored. Other actions include examining possible extensions of the existing landfills and identifying sites for new landfills.
Locations and features of existing landfills
Restored landfills
There are 13 closed landfills in Hong Kong and their restoration works were completed between 1997 and 2006 to minimise their potential adverse impacts to the environment and to render them safe for beneficial use. The Government has started converting restored landfills into recreational facilities such as recreational ground, sports facility, park, etc.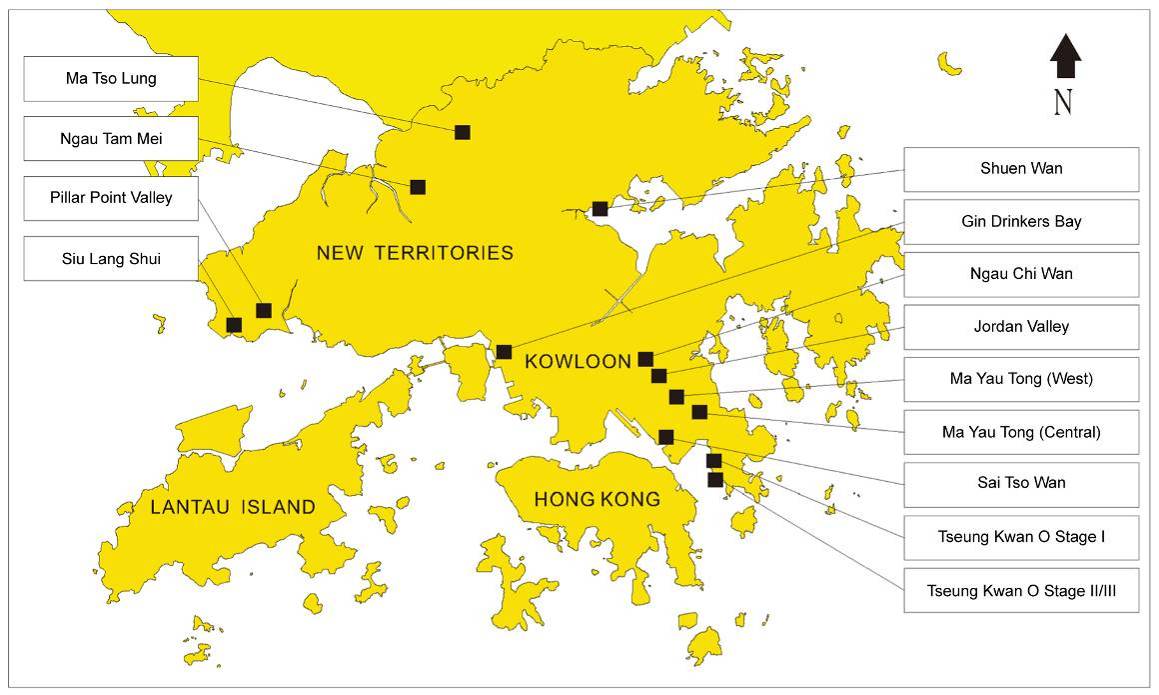 Opened in 1999, the golf driving range on part of the former Shuen Wan Landfill site at Ting Kok Road in Tai Po is the first recreational facility provided at a restored landfill. The driving range provides:
145 driving bays
One Par 3 hole
Sand bunkers
Putting green
Pro Shop
Car park
Changing rooms

The site of the former Sai Tso Wan Landfill has been converted into a recreation ground that was opened in 2004. The recreation ground offers:
Multi-purpose baseball cum soccer grass pitch for baseball or football
Baseball batting cages
Environmental gallery
Children's playground
Jogging track
Changing rooms
Car park

A major feature is that recycled materials were used in the recreation ground.
Part of the former Gin Drinkers Bay Landfill site has been developed into the Hong Kong Jockey Club International BMX Park which was opened in 2009. The BMX Park offers:
A 350 metre International Standard BMX track and a 60 metre development BMX cycling track
Pro-shop and management office
Canteen facility
Equipment and ancillary stores
Changing rooms
Car parking facilities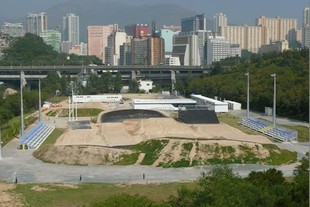 The site of the former Jordan Valley Landfill has been developed into Jordan Valley Park which was opened in 2010. The Park offers:
Radio-controlled model car racing circuit
Horticultural education centre
Community garden
Children's play areas
Elderly exercise corner
Jogging track

Developed at the former Ngau Chi Wan Landfill site is Ngau Chi Wan Park. The Park was fully opened to public in 2010 and offers:
Archery field
Jogging trail
Elderly fitness corners
Children's play areas
Basketball court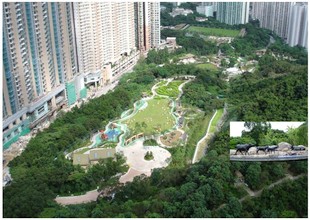 Part of the former Ma Yau Tong Central Landfill site has been converted into a sitting-out area. Adjacent to Lam Tin Park, the sitting-out area was opened to the public in early 2011.

Part of the former Ma Yau Tong West Landfill site has been converted into sitting-out area which was opened to the public in September 2011.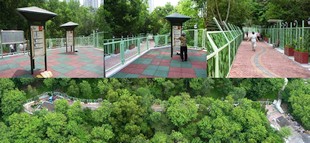 Waterfront of the former Tseung Kwan O Stage I Landfill was developed into a cycle track cum footpath and was opened to the public in June 2012.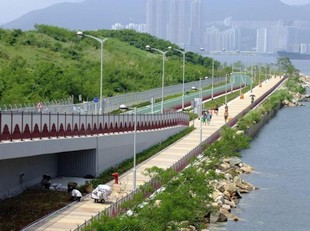 Top platform of the former Tseung Kwan O Stage II/III Landfill had been developed into a model aeroplane training field for the Hong Kong Air Cadet Crops to use during weekends and public holidays since 2005.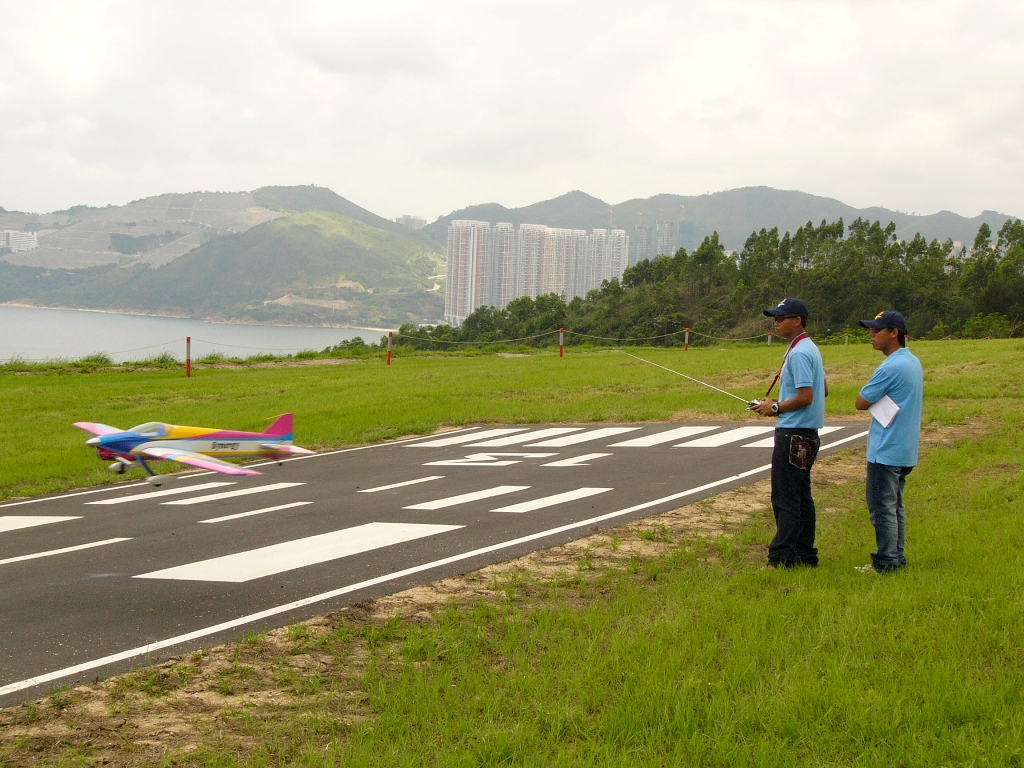 More on landfill restoration
More on Tai Po Shuen Wan Temporary Golf Driving Range
More on Sai Tso Wan Recreation Ground
More on Hong Kong Jockey Club International BMX Park
More on Jordan Valley Park
More on Ngau Chi Wan Park
Other Solutions
Although 29% of municipal solid waste generated in Hong Kong is recycled, much more needs to be done. The Government's primary objective is to reduce waste production and promote increased recycling. Environmental programmes for different sectors of society have been designed to change habits, especially in separating municipal solid waste at the source and in recycling. Producer responsibility schemes have also been put in place, under which everyone who produces waste pays the cost of its collection, recycling and proper disposal. The Government is developing regional modern large-scale organic resources recovery centre in phases to turn source separated food waste into useful resources by advanced biological treatment technologies. The Government has also developed an EcoPark, in which long term land is provided for establishment of recycling industries and environmentally friendly product manufacturing enterprises. The objective of these measures is to build a future with less needless waste disposal.
More on waste recycling
Last revision date: August 2021