Mr Matthew Cheung Kin-chung, GBS, JP, Chief Secretary for Administration
Main Content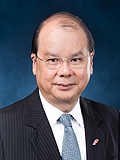 Matthew Cheung Kin-chung, aged 66, joined the Hong Kong Government as an Information Officer in July 1972 after graduating from the University of Hong Kong.
Mr Cheung transferred to the Administrative Service in September 1979. During his earlier years of service, he served in Finance Branch, Home Affairs Department, City and New Territories Administration, Government House and Industry Department. As a directorate officer since 1986, Mr Cheung served as District Officer (North), Assistant Director-General of Trade, Administrative Assistant to the Financial Secretary, Deputy Judiciary Administrator, Deputy Head of Central Policy Unit, Deputy Secretary for Education and Manpower, Commissioner for Labour, Director of Education, and Permanent Secretary for Economic Development and Labour. Mr Cheung was promoted to the rank of Administrative Officer Staff Grade A1 in September 2004. He was appointed Secretary for Labour and Welfare on July 1, 2007.
Mr Cheung was appointed Chief Secretary for Administration on January 16, 2017.
Last review date:January 2017