Mr MA Siu-cheung, Eric, JP, Secretary for Development
Main Content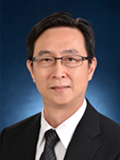 Mr Eric MA was appointed Secretary for Development on 13 February 2017.
Mr MA is an engineer by profession with over 30 years of experience in the construction industry. He is a fellow member of a number of professional bodies including the Hong Kong Institution of Engineers, the Chartered Institution of Highways and Transportations, and the Institution of Structural Engineers, United Kingdom. He also served as Hong Kong Branch Chairman of the Chartered Institution of Highways and Transportation.
Mr MA was appointed Under Secretary for Development on 6 January 2014, and Acting Secretary for Development on 16 January 2017. Before joining the Government, Mr MA held a number of senior positions in large consulting firms and contributed to the planning and implementation of various development projects in Hong Kong.
Last review date:February 2017