Mr Tang Ping-keung, PDSM, Commissioner of Police
Main Content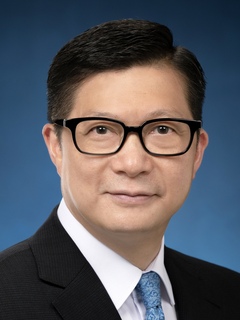 Mr TANG Ping-keung joined the Hong Kong Police Force in 1987 as an Inspector of Police. He has a wealth of experience in criminal investigation, international liaison as well as operational command. In 2018, he was awarded the Police Distinguished Service Medal.
Between 2006 and 2008, he was seconded to Interpol General Secretariat in Lyon, France as a Specialised Officer. Subsequently, he was promoted in the organisation as the Head of Criminal Organisation and Violent Crime Unit.
In 2015, Mr TANG was promoted to Assistant Commissioner of Police and discharged duties as the Regional Commander, Hong Kong Island, and Assistant Commissioner, Personnel. In 2017, he was promoted to the rank of Senior Assistant Commissioner and appointed as Director of Operations. In November 2018, he was appointed as Deputy Commissioner of Police (Operations). In November 2019, Mr TANG was appointed as the Commissioner of Police.
Mr TANG has received training at various Mainland and overseas institutions, including the Federal Bureau of Investigation National Academy, Quantico; China Executive Leadership Academy in Pudong, Shanghai; Chinese People's Public Security University, Beijing; Royal College of Defence Studies, London and Chinese Academy of Governance, Beijing. Mr. TANG holds a Bachelor's degree in Social Science, a Master's degree in Business Administration and a Master's degree in International Security and Strategy.
Last revision date: October 2020