Mr Siu Chak-yee, PMSM, Commissioner of Police
Main Content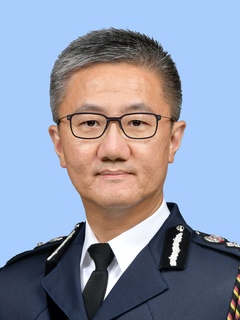 Mr Siu Chak-yee, Raymond, joined the Hong Kong Police Force in 1988 as an Inspector of Police.
Throughout his service, Mr Siu has served in various posts of different job nature, mostly frontline operational units as well as criminal intelligence-related duties and Personnel Wing.
Upon promotion to Senior Superintendent in 2007, Mr Siu served as the Deputy District Commander of Kwai Tsing District and District Commander of Airport District. In 2013, he was promoted to Chief Superintendent and took over the command of Kowloon City District. Upon completion of a tour, he then assumed the post of Chief Superintendent, Human Resources Branch, Personnel Wing.
In January 2017, Mr Siu was promoted to the rank of Assistant Commissioner of Police when he was then assigned to command the Personnel Wing.
In November 2018, Mr Siu was promoted to the rank of Senior Assistant Commissioner of Police, taking up the post of Director of Operations.
In November 2019, Mr Siu was appointed as Deputy Commissioner of Police (Operations).
In June 2021, Mr Siu was appointed as the Commissioner of Police.
During his career, Mr Siu has attended overseas development courses at various training institutes including the Tsinghua University, the Stanford University, the Harvard University and the Chinese Academy of Governance.
Last revision date: July 2021