Mr Lo Wai-chung, Commissioner of Police
Main Content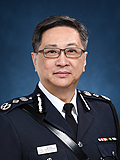 Mr Lo Wai-chung, Stephen, joined the Hong Kong Police in 1984 as an inspector after graduating from the University of Hong Kong with a bachelor's degree in Social Sciences. He has over 30 years of service and a wealth of experience in criminal investigation, international liaison, service quality management, security and operational duties. He was awarded the Police Meritorious Service Medal in 2009 and the Police Distinguished Service Medal in 2014.
In the early part of his career, Mr Lo worked in a wide range of crime posts at both regional and headquarter levels, including the Regional Crime Unit and the Organised Crime and Triad Bureau.  He also played an instrumental role in developing the Force's first-generation Major Incident and Disaster Support System.  Between 1999 and 2001, Mr Lo was seconded to the Interpol General Secretariat in Lyon, France as a Liaison Officer. Subsequently, he was promoted within this organisation to serve as the Assistant Director heading the Interpol Asia and South Pacific Branch.
After returning to Hong Kong, Mr Lo worked as a senior superintendent in the Service Quality Wing and the Complaints Against Police Office between 2002 and 2005.  Upon promotion to chief superintendent in 2005, he went on to complete attachments in Security Wing and as Deputy Regional Commander in Kowloon West. In 2009, he became Assistant Commissioner of Police commanding the Security Wing and was promoted to Senior Assistant Commissioner of Police in charge of Crime and Security Wing in 2011.  In 2013, Mr Lo was again promoted and appointed as the Deputy Commissioner of Police, Operations. He was transferred to the post of Deputy Commissioner of Police, Management in 2014.
Mr Lo has attended various overseas training programmes, including a command course for police chiefs at the Chinese People's Public Security University (Beijing, 2004), a management course in Harvard University for senior government officials (Boston, 2007) and a prestigous leadership development programme organised by the National Executive Institute of the Federal Bureau of Investigation in the United States (2010).  Mr. Lo also holds a master's degree in Risk, Crisis & Disaster Management.
Last review date: August 2017