MyGovHK is the personalised interface developed on the GovHK portal. You can receive the latest information and reminders from different government departments and enjoy one-stop access to multiple government online services through your MyGovHK account in a simple and secure manner.
Log in or register
One-stop Access to Leisure Link Internet Booking Service
MyGovHK Easy Sign-on function allows you to access Leisure Link Internet Booking Service (LLES) directly by just logging into your MyGovHK account after the linkup. You can enjoy a more convenient way to book facilities and enrol for programmes. The service is available to both Leisure Link Patrons (LLP) and Leisure Link Temporary Patrons (LLTP) registered after 3 June 2014. Records of facility booking and programme enrolment through Leisure Link System will be sent to "My Messages" of your MyGovHK account.
The linkup process is easy. Simply select "Access Leisure Link Internet Booking Service (LLES)" under My Online Services after logging into MyGovHK, and enter your personal information for authentication.
Register as a Leisure Link Patron
Access or Register with MyGovHK
Direct Access to SFAA E-link
As a registered user, you can use the new online service "SFAA E-link – My Applications", provided by the Student Financial Assistance Agency (SFAA), directly on MyGovHK now by linking up the service with your MyGovHK account. Users can submit online applications and upload supporting documents for designated financial assistance schemes.
More on SFAA E-link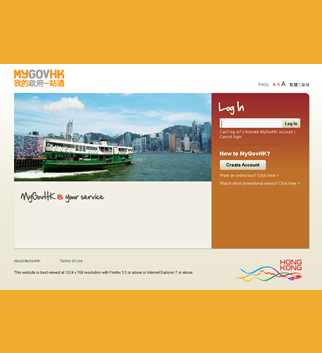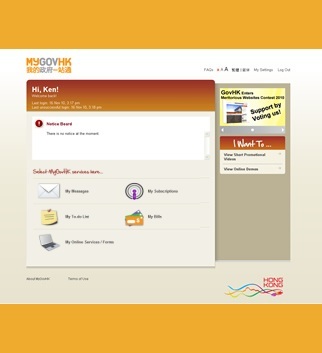 Want to have a single account to access various government services and websites? Register at MyGovHK for personalised experience in interacting with the Government and accessing public information and services.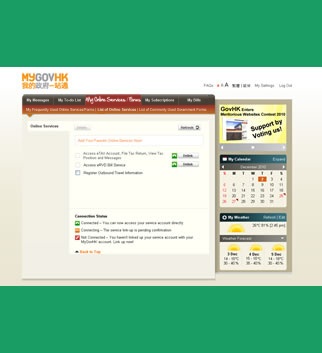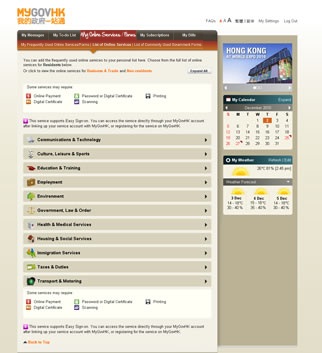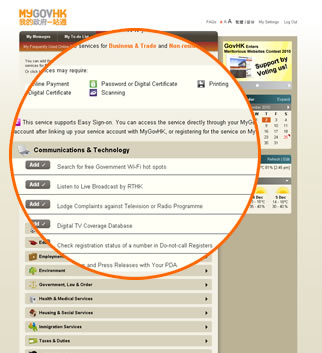 Through your MyGovHK account, you can gain direct access to various services, including:
Registration of Outbound Travel Information from the Immigration Department;
eRVD Bill, which allows you to receive electronic demands for rates and Government rent;
eTAX from the Inland Revenue Department, supported by our Easy Sign-on function, which allows you to link up your existing eTAX account with your MyGovHK account;
Housing Authority e-Services for Public Rental Housing Applications / Tenants;
e-GDN Enquiry, which provides e-billing service for registered users to receive General Demand Notes online;
Water Supplies Department Electronic Services;
SFAA E-link from the Student Financial Assistance Agency;
EMSD Web-based Registration Services.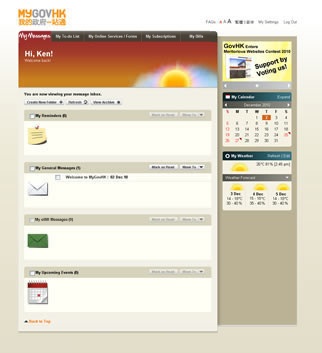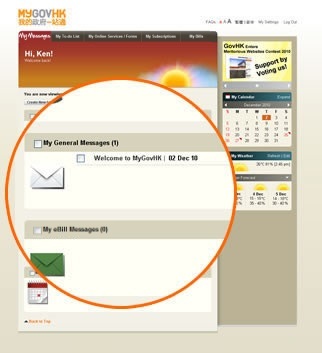 My Messages allows you to view messages sent from different government departments regarding their online services.
You can also receive the messages via your email, like
outbound travel information; and
notifications of demand for rates and Government rent.
To use this function, please go to My Settings and check "I agree to receive email messages about government services and information" .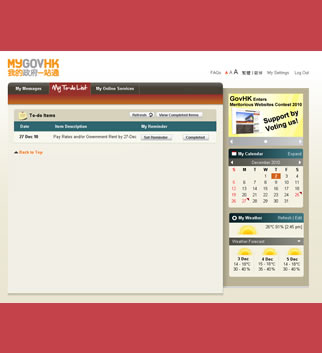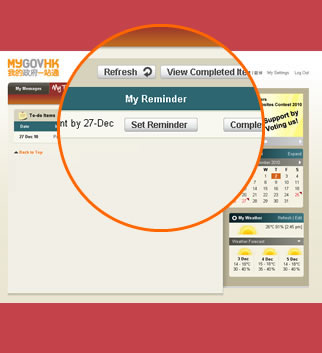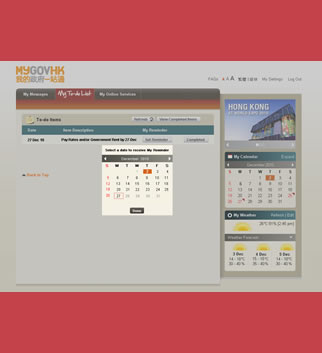 My To-do List allows you to view the to-do items related to government services. You can set a reminder for a to-do item and it will be sent to your My Messages inbox.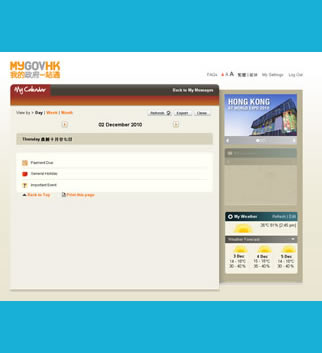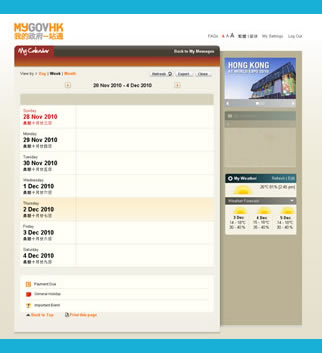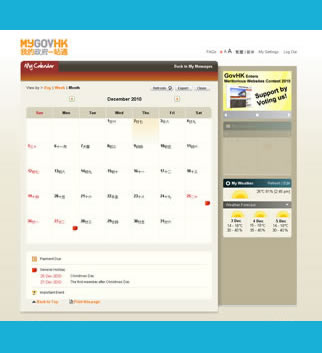 My Calendar allows you to view your to-do items and system defined events (e.g. general holidays and important government events) in a calendar.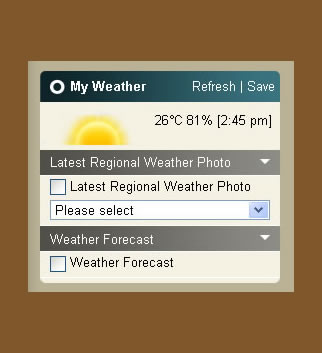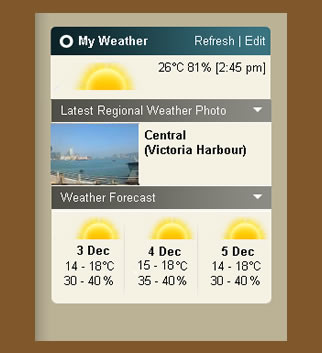 My Weather allows you to view the current weather, latest weather photos of your chosen area and weather forecast provided by the Hong Kong Observatory.
Last revision date: August 2014