MyGovHK is the personalised interface developed on the GovHK portal. You can receive the latest information and reminders from different government departments and enjoy one-stop access to multiple government online services through your MyGovHK account in a simple and secure manner.
Log in or register
Upgraded Version of MyGovHK
MyGovHK has been upgraded with a cleaner look and easier navigation now! Equipped with full functions, this new version comes with a simpler yet smarter interface design good for both desktop and mobile view. Mobile device users can now enjoy easy access to government online services anytime, anywhere.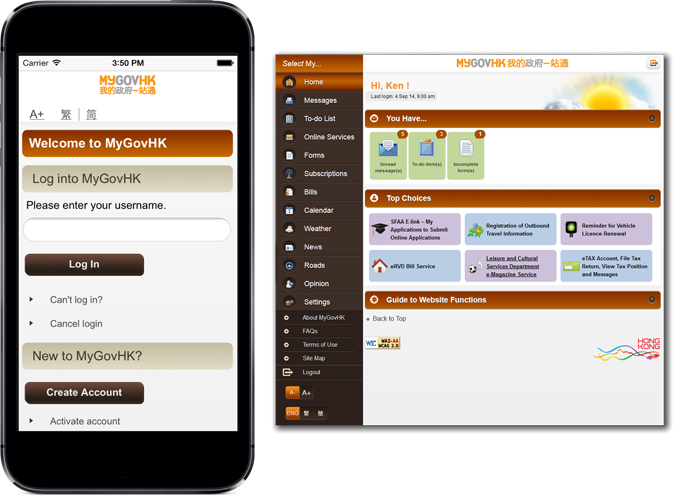 Key features of MyGovHK include:
My Online Services – You can organise your frequently used online services into a checklist for easy access. For Online Services supporting Easy Sign-on, you can even access the services directly through your MyGovHK account after linkup.

My Subscriptions – You can subscribe to government reminders and notifications through various channels.

My Bills – You can view your government billing accounts and make online payments for some bills.
MyGovHK Demo
With this enhanced version of MyGovHK, government information and services are at your fingertips. Try it out now!
Log in now
Last review date: November 2014