The design of GovHK has taken into account the capabilities and limitations of the most popular web browsers as well as the needs of people with disabilities. Here you can learn more about the international guidelines on accessibility which GovHK has observed and the various accessibility features built into GovHK.
Accessibility Statement, Guidelines and Advice
GovHK adopts web accessibility design and conforms to the World Wide Web Consortium's (W3C) internationally recognised Web Content Accessibility Guidelines 2.0 to the level AA (Double-A conformance). This means that it meets both basic and advanced accessibility standards and can be used by most people with special needs. GovHK also uses Cascading Style Sheets (CSS) and style templates that standardise all the pages on the portal, thus enhancing accessibility.


For guidance on building government websites, you can refer to the Guidelines on Dissemination of Information through Government Websites issued by the Home Affairs Bureau.
Accessibility Considerations on GovHK
Ensuring a high level of accessibility is an ongoing process, and GovHK is continually reviewed for improvement. GovHK is fully accessible to all people with different levels of accessibility requirements. Consideration has been given to the following areas to ensure that GovHK is accessible to all:
Accessible by Popular Browsers and Operating Systems
The HTML 4.01 standard has been applied to the webpages on GovHK, and users can access them with any browser that complies with the standard. But exactly how a webpage is displayed differs between browsers, computers and operating systems. For the best viewing, we suggest that you use the latest version of Internet Explorer, Mozilla Firefox, Safari or Google Chrome.
Mobile Version
The GovHK mobile version is specially designed for mobile users and visually impaired persons. It has a simplified look-and-feel with interactive design elements removed so that users of mobile phones, wireless devices, and screen readers can browse the text contents smoothly. Images are loaded only on demand. Most contents are arranged sequentially in a single column to make browsing easier for mobile phone users and those who use screen magnifying software. The page width is also scalable to fit into different mobile phones. In addition, you can also choose to browse this version of GovHK with "no style", which is a plain-vanilla version with black text on white background and blue hyperlinks. The option is available at the "Settings" of the "Site Navigation" section located at the end of the page.

Mobile Version with Simple Style

Mobile Version with No Style
Enlarged text size and Personalised Colours
You can enlarge the text size on GovHK webpages through a set of buttons in the right upper corner of every page. You can also change the colours for viewing GovHK by picking one of the six colour schemes. Apart from aesthetic reasons, different colour schemes are provided to cater for people with different colour sensitivity. One of the options named as The Achiever offers a high colour contrast and can be a good option for those with low vision. Your preference for text size and colours will remain on your computer for two months. If you visit GovHK again after two months, you will need to set your preference again.

Buttons for Setting Font Sizes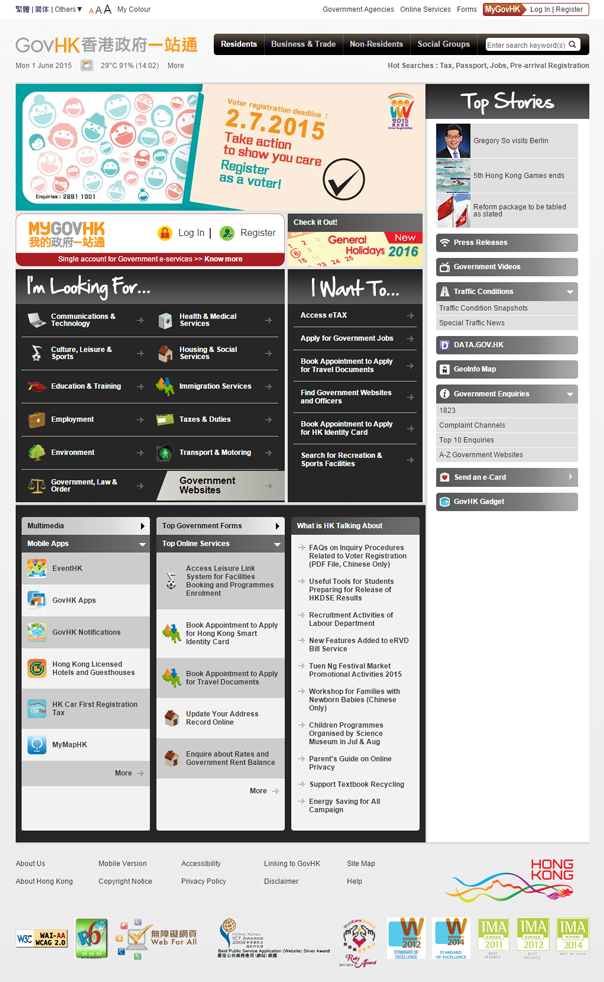 The Achiever, the Colour Scheme with High Contrast
Keyboard Shortcuts
Users who may be less adept at using mouse, such as the blind or those with neuromuscular impairments, may need to use the keyboard without a mouse to browse a website.
GovHK was designed in a way that you can use the keyboard exclusively to access all features and contents. For example, when you use the tab key, the cursor will move to all of the menus, hyperlinks or input boxes one by one in a logical order.
Some browsers also provide keyboard shortcuts that can make it easier to browse the website with your keyboard only. Lists of shortcuts for Internet Explorer and Firefox are available through the following links.
Compatibility with Screen Readers and Screen Magnifying Software
GovHK has been tested against the common screen readers and screen magnifying software used by the visually impaired in Hong Kong, including NonVisual Desktop Access (NVDA), Chinese JAWS and Windows Light. GovHK also works on screen magnifying software such as Zoomtext. More details about how GovHK's design addresses the needs of screen reader users are available through the following link.
Should you have any enquiries or comments, please contact us by email at enquiry@1835500.gov.hkmailto:enquiry@1835500.gov.hk or by phone at 183 5500.
Last revision date: March 2015