Mr Paul Chan Mo-po, GBS, MH, JP, Secretary for Development
Main Content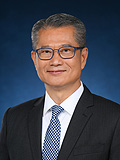 Mr CHAN has been appointed Secretary for Development of the Hong Kong Special Administrative Region (SAR) Government since 30 July 2012.  
Mr CHAN is a Certified Public Accountant.  He is a former President of the Hong Kong Institute of Certified Public Accountants and a former Chairman of The Association of Chartered Certified Accountants, Hong Kong.   
Before joining the Government, Mr CHAN held a number of public service positions including member of the Legislative Council; Chairman of Legal Aid Services Council; Board Member of the West Kowloon Cultural District Authority; non-official member of the Strategic Development Commission and Council Member of the Chinese University of Hong Kong.
Last review date:July 2016