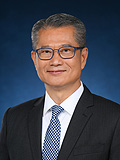 Mr CHAN has been appointed Secretary for Development of the Hong Kong Special Administrative Region (SAR) Government since 30 July 2012.
Mr CHAN is a Certified Public Accountant. He is a former President of the Hong Kong Institute of Certified Public Accountants and a former Chairman of The Association of Chartered Certified Accountants, Hong Kong. He is the Honorary President of the General Union of Hong Kong Accounting Professionals and Staff and the Honorary Advisor of the Hong Kong Accounting Professional Association.
Before joining the Government, Mr CHAN held a number of public service positions including elected member of the Legislative Council; Chairman of Legal Aid Services Council; Board Member of the West Kowloon Cultural District Authority; non-official member of the Strategic Development Commission; Council Member of the Chinese University of Hong Kong and member of the Citizens Advisory Committee on Community Relations of the Independent Commission Against Corruption.
Last review date: July 2012