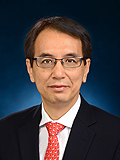 Mr Tang joined the Administrative Service in October 1978 and rose to the rank of Administrative Officer Staff Grade A1 in April 2008.
Mr Tang has served in various bureaux and departments including the Home Affairs Department, the former Social Services Branch, the former City and New Territories Administration, the former Urban Services Department, the former Lands and Works Branch, the former New Airport Projects Co-ordination Office, the former Chief Secretary's Office Administration Wing, and the Secretariat of the Standing Commission on Civil Service Salaries and Conditions of Service. He was Deputy Secretary for the Environment and Food from January 2000 to April 2001, Deputy Secretary for Transport (later renamed Deputy Secretary for the Environment, Transport and Works) from May 2001 to October 2003, and Director of Social Welfare from November 2003 to March 2007. Mr Tang was appointed as Permanent Secretary for Economic Development and Labour (Labour)/Commissioner for Labour in April 2007 until June 2007.
After the re-organisation of the Government Secretariat in July 2007, Mr Tang served as Permanent Secretary for Labour and Welfare until June 2012.
Last review date: February 2015