Mrs Carrie Lam Cheng Yuet-ngor, GBM, GBS, JP, Chief Secretary for Administration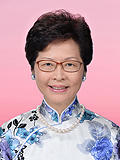 Mrs Carrie Lam, 59, joined the Administrative Service of the Hong Kong Government in August 1980, and rose to the rank of Administrative Officer Staff Grade A1 in September 2006.  She became a Principal Official on July 1, 2007 when she was appointed Secretary for Development.
During her 27 years as an Administrative Officer, Mrs Lam served in various bureaux and departments.  She was Director of Social Welfare from August 2000 to October 2003, Permanent Secretary for Housing, Planning and Lands (Planning and Lands) from November 2003 to May 2004, and Director-General of the Hong Kong Economic and Trade Office in London from September 2004 to March 2006.  She was Permanent Secretary for Home Affairs before assuming the post of Secretary for Development.
Mrs Lam was appointed Chief Secretary for Administration on July 1, 2012.
Last review date:September 2016