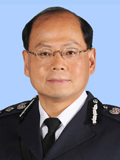 Mr Tsang, 55, joined the Hong Kong Police Force in January 1978 as a Probationary Inspector. He was promoted to Chief Superintendent in 1998, Assistant Commissioner in 2003 and Senior Assistant Commissioner in 2005. He has been Deputy Commissioner since January 2008.
Mr Tsang has held a variety of posts in the Police Force responsible for frontline operational duties, management work and crime investigations. Between 1993 and 1995 he was seconded to the Metropolitan Police in London, United Kingdom, where he worked as a detective superintendent. He served in a number of posts including Senior Superintendent (Crime) (New Territories North Headquarters), District Commander (Wan Chai) and Chief Superintendent (Organised Crime and Triad Bureau) between 1996 and 2003.
Mr Tsang served as Assistant Commissioner (Information Systems Wing) from 2003 to 2005. During his tenure as Senior Assistant Commissioner between February 2005 and January 2008, he served as Director of Personnel and Training and Director of Operations. He became Deputy Commissioner (Management) in January 2008 and Deputy Commissioner (Operations) in March 2010. He was appointed Commissioner of Police in January 2011.
Last review date: May 2013