Mr Roy Tang Yun-kwong, JP, Commissioner of Customs and Excise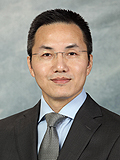 Aged 51,  Mr Tang joined the Administrative Service in July 1987 and reached his present rank of Administrative Officer Staff Grade A in April 2013.
Mr Tang served in various bureaux and departments, including the former Finance Branch, the former Health and Welfare Branch, the former City and New Territories Administration, the Hong Kong Economic and Trade Office in Tokyo, the former New Airport Projects Co-ordination Office, the former Transport Bureau, the former Environment, Transport and Works Bureau and the Environmental Protection Department. He was Deputy Secretary for the Environment from July 2007 to May 2010, Deputy Secretary for Labour and Welfare (Welfare) from May 2010 to September 2011, and Director of Broadcasting from September 2011 to August 2015.
Last review date:August 2015