Submitting the right application form, photographs of the correct specification and the relevant supporting documents required will help to ensure that your applications for a HKSAR Passport will be processed quickly.
Application Forms
There are two types of forms for local applications. You can download them, together with the guidance notes.
You can also obtain the application forms by:
calling (852) 2824 6111;
faxing a request to (852) 2877 7711;
sending an email to enquiry@immd.gov.hk

mailto:enquiry@immd.gov.hk

; or
visiting any Immigration office, district office or post office in Hong Kong.
You should complete the application forms in block letters in black or blue ink. Applications for children under 16 years of age must be signed by a parent or legal guardian.
Photograph Requirements
You must submit your application with a recent colour photograph with white background that conforms to the specifications as set out in the photograph requirements page accessible here.
If you are making an application for a child who does not have a Hong Kong permanent identity card, please submit an additional colour photograph identical to the one mentioned above.
Supporting Documents
You should bring along the original supporting documents if you are submitting the application in person. In case of postal or drop-in application, please submit application form, photograph and cheque together with photocopies of supporting documents on A4-size paper (i.e. 210 mm X 297 mm). Please note that the photocopies will not be returned to you.
An application with insufficient supporting documents will not be processed and will be returned to the applicant. Additional documents or information may be required if necessary.
Means of Application
In person
You are required to submit your application in person under the following circumstances:
your previous HKSAR Passport has been damaged or defaced;
your passport has been lost or is otherwise not available; or
you need to amend your personal data in the passport
Other than the circumstances mentioned above, if you are aged 18 or above you can submit your application at the Self-service Kiosk at any one of the Immigration Offices that handles travel document applications.
To shorten your queuing time, please make an appointment booking through the Internet ( www.gov.hk/tdbookinghttp://www.gov.hk/tdbooking ) or by phone (2598 0888) to submit your application. Applicants who have not made an appointment booking will be served in accordance with the walk-in quota system, on first-come-first-served basis until the quota is full.
By post
You can send your application by post to:
Travel Documents and Nationality (Application) Section
Immigration Department
4th Floor, Immigration Tower
7 Gloucester Road, Wan Chai
Hong Kong
Drop-in
During office hours you can also put your application (except for replacement of lost or damaged passport) in the drop-in boxes located at any one of the Immigration Offices that handles travel document applications.
Online
You can submit your application online (except for replacement of lost or damaged passport or amendment of personal particulars in passport) if you are:

eligible for an HKSAR Passport;

aged 11 or above ; and

able to collect your new passport in person at the selected Immigration Office; for children aged between 11 and 15 and unmarried persons aged 16 or 17, the consenting parent or legal guardian must accompany the child/applicant for collection of passport in person, for appending his/her signature on the application form.
Reminder for form-filling:

In completing the application form, please choose the collection office code in the 'Collection Means' column.
Please state clearly your address and contact telephone number.
If you were born in the Mainland, please provide province/municipality in the 'Place of birth' column. If you were born overseas, please provide name of the country.
Payment of Application Fee
For applications submitted in person, you can pay the necessary application fee in cash, by EPS or by a crossed cheque payable to 'The Government of the Hong Kong Special Administrative Region'. For applications submitted through Self-service Kiosk, you must pay the necessary application fee by EPS. For applications submitted by post, please send a crossed cheque. Post-dated cheques will not be accepted.
Online application
For online application, you must pay the necessary application fee at the time of application by paying online through PPS or credit card (VISA and MasterCard only).
Important Notes:
If you are sending your application by post or depositing it into the drop-in boxes:-
(a) Please send in the application form, photograph and cheque along with photostat copies of the supporting documents. All photostat copies submitted should be made on A4 size( 210mm X 297mm ) paper and will not be returned.
(b) Please fill in your cheque as shown below. The cheque should be crossed, made payable to "The Government of the Hong Kong Special Administrative Region", properly dated and signed. Post-dated cheque is not accepted. No cash should be sent along with the application.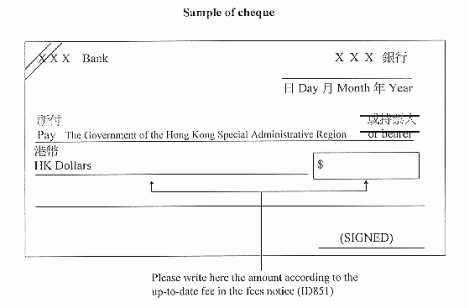 Last review date: March 2010