Producer Responsibility Scheme on Glass Beverage Containers
The Government is implementing the Producer Responsibility Scheme (PRS) on glass beverage containers progressively to better promote the recycling of waste glass containers, turning them into resources.
Why introduce the PRS on glass beverage containers?
Glass containers are widely used in our everyday life. Hong Kong generates about 100,000 tonnes of waste glass containers a year. Due to their low residual commercial value and high collection and logistics costs, in the past majority of the waste glass containers generated in Hong Kong were disposed of at landfills. However, waste glass containers are often recycled and reused elsewhere in the world. The introduction of the PRS on glass beverage containers helps organise the concerned parties to share their eco-responsibility and thus establishing a circular economy for waste glass containers, turning them into resources.
Progress
The Promotion of Recycling and Proper Disposal (Product Container) (Amendment) Ordinance 2016 was passed by the Legislative Council in May 2016, providing a regulatory framework for the PRS. The Environmental Protection Department is now working on the necessary subsidiary legislation.
Separately, through open tender, the Government has appointed Glass Management Contractors (GMCs) to provide convenient and efficient regional collection and treatment services for waste glass containers. The two contracts for the catchment regions of Hong Kong Island (including Islands District) and the New Territories commenced in November 2017 while that for the Kowloon catchment region commenced in May 2018.
How to participate in glass container recycling
The GMCs are required to set up a network of collection points for glass containers within their catchment regions serving commercial and industrial establishments such as pubs and food premises, as well as residential buildings and estates in the catchment regions. The collection services provided by the GMCs are free of charge. Parties interested in setting up glass container collection points may approach the respective GMCs of their regions for the collection services required. For the general public, you can look for the following glass bottle recycling bins that are placed in residential estates, Government buildings and venues, etc.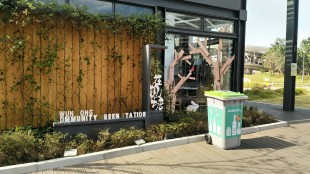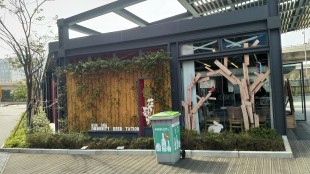 More information on the GMCs :
Hong Kong Island (including Islands District) and New Territories
Kowloon
Tips for glass container recycling
Ensure your glass beverage (and food and sauce) containers are properly cleaned before recycling them. Remember these 4 simple steps - (i) remove cap; (ii) empty content; (iii) rinse briskly; and (iv) place in the recycling bin gently.
Where would the glass containers go?
Currently, glass containers recovered locally are, after treatment, used for producing eco-pavers, exported for recycling or used as fill materials in local reclamation or site formation works.
Last review date: December 2019