Greening Hong Kong
Greening plays an important role in building an environmentally friendly society. It brings about many benefits to our environment, and engages various sectors of the society. This article outlines the Hong Kong Government's greening policy, benefits of greening, Government's greening work, tree management and ways in which you can take part in greening Hong Kong.
More on Greening
Greening Policy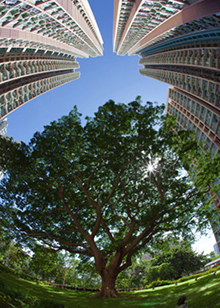 Government is striving to uplift the quality of our living environment through active planting, proper maintenance and preservation of trees together with other vegetation. The target is to bring about noticeable improvements in urban greenery, to enhance existing greened areas, and to enhance opportunities of quality greening during the planning and development of public works projects.
To achieve the policy targets, Government have developed strategies which aim to improve the coordination and effectiveness of greening efforts within the current regime, and to make greening an integral part of future public works projects. Government would also encourage private sector and community participation to promote greening. The main initiatives being undertaken include active planning and greening programme, enhancing opportunities of quality greening, community support and private sector involvement, and tree preservation.
The Greening, Landscape and Tree Management (GLTM) Section was established under the Works Branch of Development Bureau in March 2010 to champion a new and strategic policy on greening, landscaping and tree management, with a view to achieving the sustainable development of a greener environment for Hong Kong.
More on greening policy
Benefits of Greening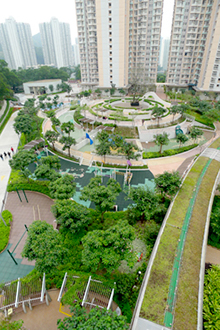 Greening can bring about many benefits. Through the process of photosynthesis, plants absorb carbon dioxide and release oxygen, thus refreshing the air for our breathing. They also absorb gaseous contaminants such as sulphur dioxide and nitrogen oxide in the atmosphere.
Greening can beautify our environment, especially in a densely populated city like Hong Kong where trees and shrubs provide freshness, beauty, comfort and elegance for our enjoyment. It can improve the urban living conditions and enhance the quality of our lives.
More on benefits of greening
Government's Greening Work and Planting Records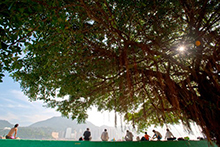 Government's greening work is characterized by great variety and spatial distribution across the territory, ranging from extensive and ecological planting in the countryside to thematic and diversified planting in the urban and fringe areas. This greening work is realized through the concerted efforts of different Government departments.
More on Government's greening work
More on planting records
Tree Management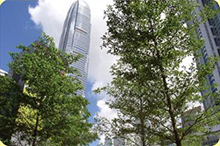 Government adopts an "integrated approach" for the management of trees on Government land. In essence, the department responsible for the maintenance of an area or a facility is also responsible for the maintenance of trees there. Tree Management Office is established under the GLTM Section to advocate the adoption of a professional approach to tree management among the tree management departments and community at large.
More on knowledge about tree planting
More on trees care and preservation
Greening Master Plan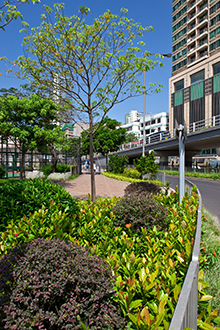 To better guide the planning, design and implementation of greening works, the Government started to develop Greening Master Plans (GMPs) since 2004. The Plans aim to define an overall greening framework by identifying suitable locations for planting with desirable themes and species, thus paving the way for continuous and consistent results in enhancing the green environment. In developing the Plan, district characteristics have been given full consideration.
More on Greening Master Plans
Greening Works for Government Buildings
Besides GMPs, greening has been positively integrated into the design of government buildings. In addition to implementing greening at ground levels, Government has been exploring ways to increase the greening areas in government buildings, like roof greening and vertical greening.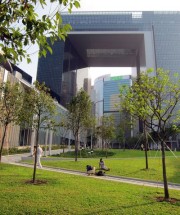 Since 2001, Government has been incorporating roof greening designs where practicable into the appropriate new government building projects. The buildings involved include schools, crematoria, hospitals, offices, community centres, etc. Furthermore, Government has been taking the chance during the major roof works of existing government buildings to introduce retrofitted roof greening to the buildings where practicable since 2006. Roof greening not only provides extra green spaces but also improves cityscape and enhances the effectiveness of heat insulation. When applied on a large scale, it can attenuate urban heat island effect as well.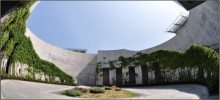 Apart from roof greening, Government has been exploring opportunities for vertical greening in government buildings. Since 2008, vertical greening has been adopted in some government capital works projects including schools and government buildings. Vertical greening not only increases the amenity value of the site but also improves air quality. In the long run, it can also reduce urban heat island effect.
More information on greening and landscaping on government buildings
Greening Schools
Greening culture is also promoted in schools. There are numerous greening methods, such as the cultivation of groves, landscaped gardens, lawns, shrubbery, garden plots, container plants, and the setting up of planters, trellises and hanging baskets. Schools can apply for subsidy through the Greening School Subsidy Scheme launched by the Leisure and Cultural Services Department (LCSD). You can make your choice based on the size of the school campus, the existing facilities and the available resources.
More on Greening School Handbook
More on Greening School Subsidy Scheme
How You Can Participate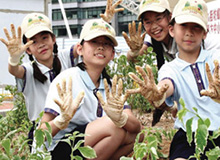 The community plays a significant role in our greening, landscape and tree management work. Government launches a variety of community involvement and public education activities for various target groups to foster an attitude of greening the environment and care for trees across the territory. These activities include roving exhibition, school talks, seminars for the industry, private owners and property management companies, etc.
More on community participation
The "Green Volunteer Scheme" is launched in the 18 districts to encourage members of the public to participate in voluntary services of greening activities, to assist in tree surveillance work and report problematic trees, and to assist in promoting horticulture and greening activities, etc. Those who are interested can register as "Green Volunteers" under the Scheme, which will provide basic horticultural training and practical sessions for new recruits.
More on Green Volunteer Scheme
Last revision date: May 2021