Key Government Renewable Energy Projects
Hong Kong has neither indigenous fuel sources nor the physical conditions conducive to the development of renewable energy (RE). Based on currently mature and commercially available technologies, our estimate is that Hong Kong has realisable RE potential of about 3-4% of Hong Kong's total electricity consumption arising from wind, solar and waste-to-energy that can be exploited between now and 2030. In 2018, the amount of RE electricity accounted for less than 1% of our electricity consumption.
The Government is nonetheless committed to maximising our modest RE potential as fully as possible. Apart from creating the conditions to facilitate the private sector in adopting RE, the Government also strives to take the lead in applying RE on a wider and larger scale.
What are Government's existing RE projects?
The Government has implemented a number of large-scale RE projects at its facilities and is planning many other major projects. The most prominent example is the Government's largest solar farm at the Siu Ho Wan Sewage Treatment Works with an installed generation capacity of 1,100 kilowatts (kW). In addition, large-scale solar energy generation systems have been installed at the Redeveloped Complex of the Victoria Park Swimming Pool and the Redeveloped Complex of the Kwun Tong Swimming Pool & Recreation Ground with an installed capacity of 468 kW and 337 kW respectively.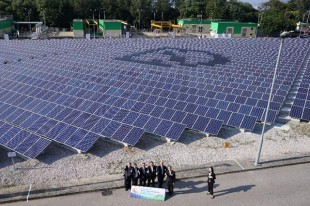 Solar farm at the Siu Ho Wan Sewage Treatment Works
The T ▪ PARK in Tuen Mun was fully commissioned in April 2016 and is currently the largest waste-to-energy generator in Hong Kong. The heat energy generated from the incineration process is recovered and turned into electricity that can support the needs of the entire facility. When running at full capacity, it can produce up to 2 megawatts of surplus electricity for the public power grid, which is an impeccable example of "waste-to-energy" in action.
If you want to find out more about existing Government RE projects, you may refer to the HK RE NET of the Electrical and Mechanical Services Department (EMSD).
HK RE NET
What are Government's coming RE projects?
The Water Supplies Department has explored the potential for electricity generation from floating PV systems on reservoirs by installing two small systems of 100 kW each on Shek Pik Reservoir and Plover Cove Reservoir. Based on the encouraging results, the Government is actively considering installing large-scale floating PV systems at suitable locations in reservoirs. There will also be a pilot solar PV project at the South East New Territories Landfill to test the technology as well as its implementation at landfills.
In addition, the Government has also earmarked HK$2 billion in total since the 2017-18 financial year for the installation of small-scale RE facilities at government buildings, venues and facilities.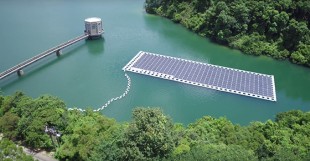 Floating PV systems on Shek Pik Reservoir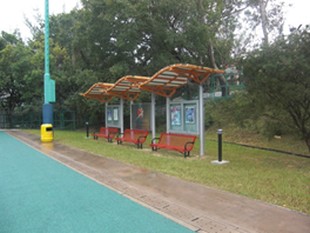 Solar powered lamps at Sai Kung Outdoor Recreational Centre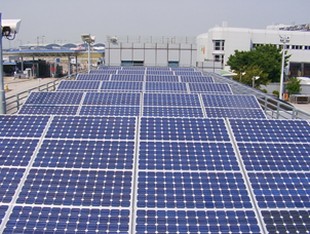 PV systems at Airport Police Station
Further information, data and statistics on RE
As part of the Government's on-going efforts to promote RE, the EMSD publishes on its HK RE NET some useful information on RE, including the application of different RE technologies in Hong Kong and overseas, existing RE projects being operated by the Government and the private sector, as well as the relevant statistical information. Please visit HK RE NET.
HK RE NET
Last revision date: March 2021