Waste Reduction & Separation
As Hong Kong generates a huge amount of waste each day, we need to be aware of how to reduce it to maintain our quality of life. Here you can learn about the current situation, what you can do to reduce waste and how to separate waste for reuse and recycle.
Waste Problems in Hong Kong
Hong Kong generates over 6 million tonnes of municipal solid waste annually (over 18,000 tonnes a day). At this rate, our existing landfills will be exhausted one by one by 2020. The Government is currently consulting the public on large-scale alternatives, but small changes in our habits will also help, including reduce, reuse and recycle.
More on municipal solid waste
Reduce & Reuse
You can reduce waste both at work and at home with a few simple changes. Here are some tips for you.
At the Office
Think carefully how many copies you need and do not copy too many.
Put a single-sided paper collection box and a waste paper recycling box near the photocopiers.
Single-sided paper can be used as notepads and reusing envelopes.
Use pencils for drafting rather than pens.
Use less glue that contains benzene and ethyl acetate – paper clips and pins will often do.
Use less correction fluid that contains the ozone depleting l.l.l-trichloroethane.
Reduce the use of fluorescent pens – you can just underline text instead.
Bring your own mug so you don't have to use disposable paper cups.
Communicate through e-mail can reduce paper use.
At Home
Cut down on gift wrapping paper.
Use handkerchiefs rather than tissues.
To avoid buying unnecessary products, think twice before shopping. It is environmentally friendly and can save your money.
To reduce consume of plastic bags, bring your own bags.
Return coat hangers to cleaners.
Send any unwanted electrical appliances, computers, toys and clothing to charity groups.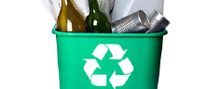 Location of collection points
Source Separation of Waste
For easier recycling, separate waste before disposal.
Non-recyclable:
Recyclable:
Waste paper, including newspapers, office papers and cardboard.
Metals, including aluminium cans and metal containers.
Beverage plastic bottles and personal care product plastic bottles.
Other recyclables, such as old clothing, electrical appliances, computers, etc.
Programme on Source Separation of Domestic Waste in January 2005 was launched by the Government. By encouraging and assisting property management companies to provide waste separation facilities within their estate / building premises to facilitate residents to separate waste at source, the Programme aims to increase the quantity of recyclables collected and reduce the amount of waste disposed. Residents only need to separate recyclables in their waste by category, such as waste paper, metals and plastics, and then take them to the designated recycling points in their estates. This is very convenient.
More on the source separation of domestic waste
Apart from recycling through the Source Separation of Waste Programme, public can also bring their recyclables to various recyclers or waste collectors for recycling.
List of recyclers/ waste collectors
Last revision date: March 2019