IT Facilities in Public Place
Many public facilities are available in Hong Kong where you can access computers and the Internet, use electronic services, and develop new skills that will be beneficial in the information age. Here you can learn more about what these facilities offer, where they can be found and how you can make use of them.
Facilities at Public Libraries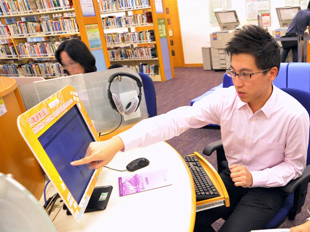 You can gain access to computers through public libraries. Internet & Digital Service (IDS) Workstations are installed in static public libraries to enable you to browse the Internet and access the library's electronic resources.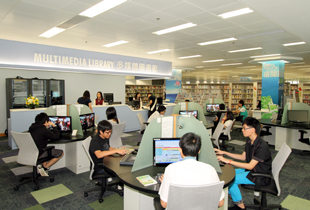 To support the public's self-learning and information needs, the Hong Kong Public Libraries have developed a Multimedia Information System (MMIS) to provide one-stop interactive multimedia information service that allows the public to search, browse, view or listen to all kinds of multimedia materials through workstations inside the library or through the Internet. Through the online booking service, users with valid library cards can reserve for the use of IDS Workstations as well as contents in MMIS, such as audio, video and CD-ROM databases.
More on MMIS Service
Moreover, the Computer and Information Centres or Areas in selected public libraries offer services that allow you to:
Use commonly used software such as word processing, spreadsheet, database and presentation
Apply application software such as web authoring, image and photo editing, drawing and graphic design (available at selected workstations only)
Access the Library Catalogue, e-books and online databases
Browse the Internet
Carry out secured electronic transactions with e-Cert embedded in smart ID card (available at selected workstations only)
Scan documents (except Stanley Public Library and Tai Kok Tsui Public Library)
Print documents
Some of these services can be pre-booked. Please check with your library for details.
List of Public Libraries with Computer Information Centres or Areas
Computer Facilities from Non-governmental Organisations
You can consider the various computer facilities provided by non-governmental organisations to develop your IT skills. Below is one of the examples.
Christian Action Community Cyber Centre
The Community Cyber Centre is co-organised by the Christian Action and Home Affairs Department with its services launched in July 2007. Members of the public are welcome to enrol free of charge as members of the Christian Action Community Cyber Centre and enjoy its free IT facilities. Internet access is available at all computer workstations and selected computers are equipped with Smart Identity Card Readers for users to enjoy secure public services.
More on the Christian Action Community Cyber Centre (Available in Chinese only)
Last revision date: December 2019