IT Courses & Activities
A number of computer training courses and activities are offered by the Government and other organisations to help you develop your IT skills. Here you can learn about these courses and where to find them.
Free IT Activities Provided by Public Libraries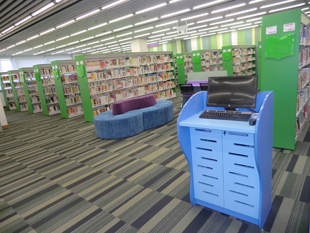 The Hong Kong Public Libraries organise IT activities to give knowledge on information technology to members of the public. These activities are provided free of charge.
IT Activities Held at Hong Kong Public Libraries
Free Computer Activities at the Hong Kong Science Museum
The Hong Kong Science Museum offers computer learning activities for both adults and children to develop their IT skills. These activities are free, and enrolment is on a first-come-first-served basis.
Self-Learning Software Corner
You can learn at your own pace using the self-learning software in the Museum's Computer Room. Sessions are available on Wednesdays, Fridays and Saturdays in various time slots, and you should make a telephone booking at 2732 3223 within two weeks before the date of the programme. The self-learning software has a Chinese interface and is narrated in Cantonese with some English terminology. The following software packages are available:
Basic Computer Knowledge
Basic Internet Knowledge
Changjie (倉頡) Cyber Classroom
Chinese Operation System
Word processing, spreadsheets and presentation software
Database management software
Webpage development and photo editing software
More on Self-Learning Software Corner
IT Courses Offered by the Employees Retraining Board
Part-time courses on subjects such as elementary computer skills, keyboard operation and Chinese word processing are available from the Employees Retraining Board. Courses from the Board target the unemployed aged 15 or above and with education attainment of sub-degree or below, those with disabilities, new arrivals from mainland China and those in full-time employment who want to upgrade certain skills.
You can search for relevant IT courses and details on enrolment through the Board's online course enquiry system.
Online Course Enquiry System (Available in Chinese only)
More on Enrolment Requirements (Available in Chinese only)
IT Programmes Offered by the Vocational Training Council
The Vocational Training Council provides a multitude of IT training programmes at various levels through its member institutions. The programmes help young people equip themselves with professional knowledge and skills for career development after graduating from Secondary 3 or above.
Post-Secondary 3 Programme: Diploma in Vocational Education Programme (Information Technology)
Post-Secondary 6 Programmes: Bachelor of Science (Honours) Programme in Multimedia Technology and Innovation, Higher Diploma Programmes in Information Technology, Foundation Diploma Programme (Computing), and Diploma in Vocational Education Programme (Information Technology)
More on VTC Programmes
Last revision date: May 2017