Communication Tips for Your Hike
Before visiting a country park, you should think about how to keep in touch with others during your trip. Here you can learn about how to plan your trip with telecommunications in mind.
General Planning
Always find company, and make sure you can remain in contact throughout the trip. You should ensure that your mobile phone, or walkie-talkie if you have one, is fully charged before you leave and that you have a spare battery ready. When hiking, you should try to switch off at least one mobile phone in your group and keep it as a backup.
Use a Roaming Service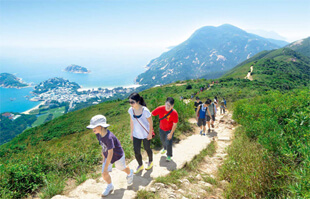 When in a country park, you might not be able to use your mobile phone at all times. Network coverage is sometimes patchy. You can subscribe to a roaming service or bring along a prepaid SIM card issued by one of the mainland mobile network operators. In case of emergency at a place with no local mobile phone network coverage but roaming service is available, you may then call for assistance using the roaming service. With either of these options, you should be able to call for assistance during an emergency. Using a tri-band mobile phone, which works in the 900MHz, 1800MHz and 2100MHz bands, will also give you a better chance of successfully contacting the 999 emergency centre.
Using Walkie-Talkies and Global Positioning System Devices in Country Parks
Walkie-talkies and Global Positioning System (GPS) devices can also be useful in emergencies. A walkie-talkie helps you keep in touch with your hiking group and can be used to monitor for distress calls from other hikers in more remote areas. A GPS device cannot be used for communications, but it will give you your exact location should you need the help of emergency services.
More on Using Walkie-talkies and GPS Devices in Country Parks
50222 SMS Hiker Tracking Service
With the support of mobile service operators, the Communications Association of Hong Kong (CAHK) has launched the 50222 SMS Hiker Tracking Service (50222 Service) to help search and rescue lost hikers. Hikers can use the service by sending short messages to a designated number 50222 to report periodically the unique numbers of Distance Posts they encounter along their hiking trails. This will help keep track of their positions. For example, sending the number M001 means the hiker is at the first Distance Post of the MacLehose Trail. In any event that a hiker is lost, rescue parties can make use of the data stored in the system of 50222 Service to improve the time and success rate of search for the lost hiker.
More on 50222 Service (PDF File)
GPS Hiker Tracking Service
In addition, a new GPS Hiker Tracking Service has been launched by CAHK since October 2013 to facilitate speedy and effective rescue. If you want to use this service, please install the Enjoy Hiking app, developed by the Agriculture, Fisheries and Conservation Department, onto your smartphone. Before your hiking trip, please launch the app and activate its Hiker Tracking Service function. The GPS system will then auto feed your tracking locations and record the relevant data at the service centre. The data can be retrieved and used to facilitate rescue if any need arises from an emergency situation.
More on GPS Hiker Tracking Service (PDF File)
Last revision date: July 2015