Technology Crime
Nowadays criminals routinely and actively exploit our reliance on modern technology to commit technology crimes, such as botnets, website defacement, Internet fraud and online theft.
How to Protect Yourself
As a smart netizen, you should remain vigilant and avoid falling prey to these traps. To protect yourself, you should:
properly configure your malware scanning software and keep malware signature files up-to-date;
secure your wireless network;
protect your information with strong passwords;
not use software from unknown sources;
not download files or software from the Internet indiscriminately;
not disclose your personal data like your name, email address and passwords; and
apply the latest security patches or hot-fixes from product vendors to your operating system or the applications installed in your computer.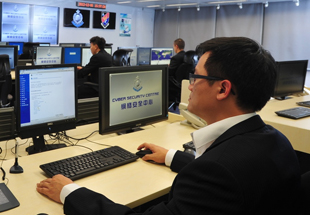 The Technology Crime Division of the Hong Kong Police Force is dedicated to fighting technology crime, maintaining law and order in cyberspace and ensuring that Hong Kong remains a digitally safe city. To avoid falling victim to this kind of crime, keeping yourself informed of the common tricks and learning the tips will always be helpful.
Common Types of Technology Crime
Crime Prevention Tips
To learn more about computer-related crime, its impacts and preventive measures, you may also check out the following link from the Information Security (InfoSec) website, which is managed by the Office of the Government Chief Information Officer.
More on Computer-related Crime
Channels for Reporting IT-related Incidents
Before reporting any incidents related to information security or suspected technology crime, please think clearly whether the case you are about to report is really a crime that requires police assistance. For incidents other than crime matters, you may seek advice from Hong Kong Computer Emergency Response Team Coordination Centre (HKCERT), a centre managed by the Hong Kong Productivity Council for coordination of computer security incident responses for local enterprises and Internet users. HKCERT accepts reports on computer security related incidents, e.g. malware, web defacement, phishing, scam, denial of service attack and other cyber attacks. Enquiries on security protection are also welcome.
Report Incidents to HKCERT
Report Cyber Crimes
Last revision date: May 2020