Intellectual Property Protection
Protecting intellectual property is important because it ensures that creativity can flourish and business can be conducted in a fair manner. Here you can learn more about the relevant ordinances, what constitutes infringement, and how one can avoid breaking the law.
Intellectual Property Defined
Intellectual property is the collective name for a range of intangible property rights, including trade marks, patents, copyright, designs, plant varieties and the layout design of integrated circuits.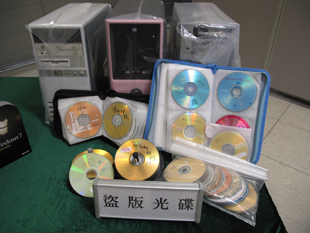 In the digital environment, intellectual property such as copyright subsists in music, movies, television shows and computer software. The copyright owner enjoys the exclusive rights to carry out acts restricted by the copyright, which means that the material cannot be copied or distributed without the copyright owner's permission.
More on intellectual property rights in Hong Kong
Intellectual Property Right Protection
Intellectual property rights are protected in Hong Kong under various ordinances, which include:
Copyright Ordinance
Prevention of Copyright Privacy Ordinance
Trade Marks Ordinance
Trade Descriptions Ordinance
Patents Ordinance
Registered Designs Ordinance
Plant Varieties Protection Ordinance
Lay-out Design (Topography) of Integrated Circuits Ordinance
Under the Copyright Ordinance, copyright owners can take legal action against anyone or any organisation that copies or distributes the copyrighted work without their permission.
More on laws related to intellectual property
More on Lay-out Design (Topography) of Integrated Circuits Ordinance
Intellectual Property Right Infringements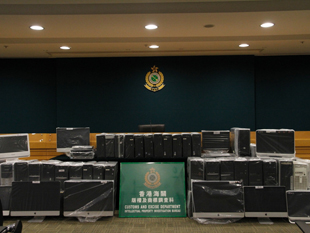 One of the more common instances in which intellectual property rights are infringed in Hong Kong is through computer software piracy.
Under the Copyright Ordinance, simply using pirated computer software for private and domestic use is not an offence. However, the copyright owners can still claim damages against the infringers through civil proceedings. Penalties under the Copyright Ordinance, including fines and possible imprisonment, mainly relate to possessing or distributing pirated software for commercial purposes.
For example, an Internet café or computer games centre that conducts its business using pirated copies of computer software will be penalised.
It is also important to note that a person will incur criminal liability if he distributes the pirated software to such an extent as to affect prejudicially the owner of the copyright, even though he may not be distributing the pirated software for commercial purposes.

Other works such as digital images, films and sound recordings that are found in interactive digital entertainment products are also protected under the Copyright Ordinance, and cannot be copied, distributed, sold or used without permission from the copyright owner.
The Court of Final Appeal on 18 May 2007 dismissed the appeal of an appellant, who had been convicted and sentenced to three months' imprisonment for uploading copyright-infringing films to the Internet using the BitTorrent (BT) peer-to-peer file-sharing program. This was the world's first ever enforcement operation leading to conviction and imprisonment of a person who distributes infringing copies of films using the BT program.
The judgment reaffirms that the uploading of infringing copies of copyright works to the Internet using the BT peer-to-peer file-sharing program for downloading by other Internet users is a criminal offence under the Copyright Ordinance in Hong Kong.
The Customs and Excise Department, which is responsible for taking legal action against intellectual property right infringement, monitors activities on the Internet round the clock, including copyright piracy involving the use of peer-to-peer file-sharing programs.
Under the Copyright Ordinance, a person commits an offence if he/she, without the licence permission of the copyright owner, distributes an infringing copy of a copyright work to such an extent as to affect prejudicially the owner of the copyright even if it is not for the purpose of trade or business. The maximum penalty is a fine of $50,000 per infringing copy and imprisonment for four years.
In addition to the above, trade marks may be included in computer software. Under the Trade Marks Ordinance, the owner of a registered trade mark has an exclusive right to use the mark on the goods or services for which the mark was registered. The owner can take legal action against anyone using his registered mark in relation to those goods or services without his consent. You should therefore bear in mind the potential liability for trade mark infringement as well.
Preventing Infringement
The Customs and Excise Department combats intellectual property right infringements on three levels:
Wholesale: the main focus is on halting the importation of pirated products into Hong Kong, the manufacture of pirated products for exportation, and the wholesale and distribution of pirated products within Hong Kong
Retail: action is being taken repeatedly against the sale of pirated products at the street level, with surveillance and seizures leading to prosecution
Internet: to address the emerging trend of online copyright infringement, two Anti-Internet Piracy Teams and a Computer Forensic Laboratory have been established.
Respect for Intellectual Property Rights
One of the most common instances of intellectual property right infringement is through file sharing on peer-to-peer (P2P) networks. File sharing services such as Foxy and BitTorrent (BT) offer software for downloading that can link your computer to others in a network for direct sharing of any type of electronic file. Please note however that:
File-sharing software can open your computer to viruses and spyware, small programs that 'watch' what happens, sometimes recording keystrokes and sending information on passwords and credit card numbers to a third party.
Unless you are sharing music, programs or videos of your own creation, you are probably violating someone else's intellectual property rights. Parents can be held responsible for what their children have done on the family computer, even if they are not themselves engaged in illegal activity.
Securing musical works online is not necessarily a legal offence. In fact, many retail websites allow you to buy various types of music from many periods. You can also legally download sample tracks from the websites of many artists without the need to pay.
Enhancing Copyright Protection in the Digital Environment
To ensure that our copyright law keeps pace with technological and overseas developments, the Government introduced the Copyright (Amendment) Bill 2014 (the Bill) into the Legislative Council on 18 June 2014. The Bill is now under the scrutiny of the Bills Committee of the Legislative Council. The key proposals of the Bill include:
introducing a technology-neutral exclusive right for copyright owners to communicate their works through any mode of electronic transmission
introducing corresponding criminal sanctions against unauthorised communication of copyright works to the public
expanding the scope of copyright exception under the existing law to balance copyright protection and reasonable uses of copyright works for the following purposes in appropriate circumstances:
(a) parody, satire, caricature and pastiche
(b) commenting on the current events
(c) quotation
(d) temporary reproduction of copyright works by online service providers
(e) media shifting of sound recordings
(f) giving education instructions
establishing a statutory "safe harbour" for online service providers so that their liabilities for copyright infringement occurring on their service platforms could be limited under certain prescribed conditions
providing additional factors for the court to consider in assessing damages in civil cases in which infringement has been established
The Bill seeks to strike a fair balance between protection of copyright, free flow of information and reasonable use of copyright works. It also brings the copyright law of Hong Kong in pace with major developments in other common law jurisdictions.
More on Copyright (Amendment) Bill 2014
Last revision date: May 2020