Cyber Ethics
The term "cyber ethics" refers to a set of moral rules or a code of behaviour applied to the online environment. As a responsible netizen, you should observe these rules to help make cyberspace a safe place.
Are You Using the Internet Responsibly?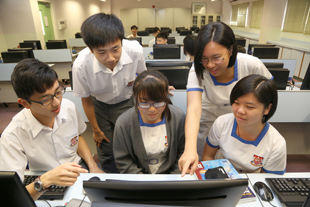 Some people may have a lower standard of ethics in cyberspace as they thought there is no law governing the virtual world and their anonymity will save them from being detected. In fact, these are all misconceptions. The law also governs the Internet and you may attract legal liabilities if you perform the following activities:
posting obscene and indecent content on the Internet;
obtaining property or services online by deception;
spreading viruses or malicious codes; and
gaining unauthorised access to computers, etc.
Therefore, you should learn to be a responsible netizen so that you will not commit any technology crimes unknowingly or cause harm to others.
Do not store, send or disseminate any content which is likely to be offensive or obscene to a reasonable person.
Do not access any data, systems or networks without authority or permission.
Do not spread computer viruses or malicious codes, or conduct any hacking activities on other computers.
Respect all other Internet users. Do not threaten, harass, stalk or abuse anyone.
Good Practices of Internet Users
Last review date: March 2021