Mr Caspar Tsui Ying-wai, JP, Secretary for Home Affairs
Main Content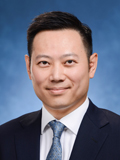 Mr Caspar Tsui assumed the post of the Secretary for Home Affairs on 22 April 2020.
Mr Tsui became a Politically Appointed Official when he assumed the post of Political Assistant to Secretary for Home Affairs in June 2008. Before taking up the current post, he was Under Secretary for Labour and Welfare from August 2017. Mr Tsui had worked for various financial institutions in Canada and Hong Kong before he joined the Government.
Mr Tsui holds a Bachelor Degree in Economic, Public Policy and Public Administration from the University of Ottawa and a Master Degree in Business Administration from the University of Manchester.
Last revision date: April 2020