Mr Lau Kong-wah, JP, Secretary for Home Affairs
Main Content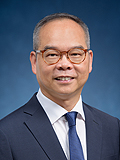 Mr Lau was born in Hong Kong in 1957 and is a Master of Philosophy in Public and Social Administration.
Mr Lau was elected as a District Councillor in Sha Tin in 1985, which marked the beginning of his 30-year career in the public service. He became a Legislative Council member in 1998 and has also been a member of the Executive Council.
In 1994, Mr Lau founded the Civil Force and was formerly Deputy Chairman of the Democratic Alliance for the Betterment and Progress of Hong Kong. Mr Lau was appointed as Under Secretary for Constitutional and Mainland Affairs in 2012. 
Last revision date: July 2017