Dr Ko Wing-man, BBS, JP, Secretary for Food and Health
Main Content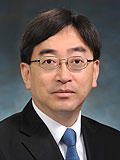 Dr Ko Wing-man is a specialist in orthopaedic surgery by profession. He was appointed Secretary for Food and Health of the Hong Kong Special Administrative Region Government on 1 July 2012.
After graduating from the Faculty of Medicine of the University of Hong Kong in 1981, Dr Ko served in the Princess Margaret Hospital and the former Hospital Services Department.  He was Director (Professional Services & Public Affairs) and then Director (Professional Services & Human Resources) of the Hospital Authority (HA).  He received a Fellowship from the Royal College of Surgeons of Edinburgh, the United Kingdom in 1986 and a Master's Degree in Health Administration from the University of New South Wales, Australia in 1992.  He became a Fellow of the Hong Kong Academy of Medicine (Orthopaedic Surgery) and a Fellow of the Hong Kong Academy of Medicine (Community Medicine) in 1993 and 2000 respectively.  In 2002, he was made a Fellow of the Faculty of Public Health Medicine, Royal Colleges of Physicians of the United Kingdom.
Dr Ko began his career as a clinical orthopaedic surgeon and was subsequently engaged in the management of healthcare services since the 1990s.  After the establishment of the HA, he participated in and was responsible for, co-ordinating the operational management of services for hospitals under the HA.  In late 2004, Dr Ko left the HA and subsequently took up clinical work again, and has held the posts of Chairman of the Hong Kong Anti-Cancer Society, Director of the Hong Kong Red Cross and Chairman of its Health & Care Service Management Committee.  In the aftermath of the 5.12 Wenchuan Earthquake in 2008, he has been actively involved in the rehabilitation and reconstruction efforts in the area.
Dr Ko was awarded the Bronze Bauhinia Star in 2008 for his remarkable contributions.
Last review date:October 2015