Mr Wong Kam-sing, GBS, JP, Secretary for the Environment
Main Content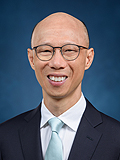 Mr KS Wong was born in 1963 and is an architect by profession. He has been promoting sustainable built environment since 1990s. He had served as the Vice Chairman of the Hong Kong Green Building Council and the Chairman of the Professional Green Building Council. He has contributed to the development of local standards and guidelines for sustainable built environment.
Before joining the Government, he has contributed to the work of a number of Government advisory bodies. In particular, he had active involvement in the public engagement processes of the Council for Sustainable Development. He was the convener of the Support Group on Combating Climate Change: Energy Saving and Carbon Emission Reduction in Buildings. He was also a member of the Support Group on Building Design to Foster a Quality and Sustainable Built Environment.
Mr Wong graduated from the Department of Architecture of the University of Hong Kong. He received further education on sustainable built environment from the University of British Columbia in Canada. He has been appointed as the Secretary for the Environment of the HKSAR Government and assumed the post on 1 July 2012.
Last revision date: July 2017